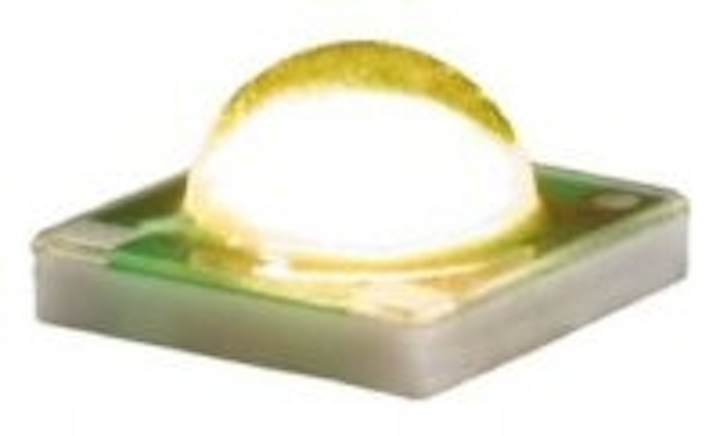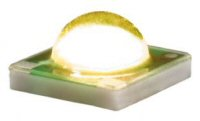 XLamp XP-E
LED maker Cree, Inc has introduced two new "lighting-class" LEDs. The new XLamp® XP-E and XP-C LEDs have a small footprint and, according to Cree, provide the same high-quality lighting performance and proven reliability as Cree XR-E and XR-C LEDs in an 80-percent smaller package.
The new XLamp LEDs, measuring just 3.45 mm square by 2 mm high, can enable new applications, including backlighting, signage, outdoor, indoor and portable lighting, thanks to their small size and low profile as well as a wide viewing angle and symmetrical package.
Cree's XR-E LEDs have a footprint of 7 x 9 mm, with a height of 4.4 mm. The new Cree LEDs are likely to be viewed as direct competition for the Luxeon Rebel from Philips Lumileds, which has a footprint of 3 x 4.5 mm with a height of 2.1 mm.
The highest-performance available bins for the new XP-E LEDs are minimum 100 lumens at 350 mA in cool white (5000 K - 10000 K) and minimum 80.6 lumens at 350 mA in warm white (2600 K - 3700 K).
"We recognized an unmet need for lighting-class performance in a small-footprint, low-profile LED package. These products, based on an innovative new technology platform, address this need," said Paul Thieken, Cree marketing director for LED components.
"This new platform, in concert with the existing XLamp products and the recently demonstrated XLamp MC-E LED, give LED lighting designers enhanced flexibility and performance to further accelerate the LED lighting revolution."
Cree opens engineering center in Shenzhen, China
In other news from Cree, the company has opened the Cree Shenzhen Engineering Center in Shenzhen, China. This technical education center is dedicated to training lighting product designers and manufacturers in best practices for LED lighting product design and construction.
Co-located with the Cree Shenzhen sales office, the engineering center employs application engineering, technical and sales staff. Cree experts will teach courses and are available to consult with customers on XLamp® LED-based designs, provide on-site handling guidance for LEDs during production, and evaluate LED designs for efficiency and performance.
The modular curriculum, taught in Mandarin, is designed to expand traditional lighting designers' and manufacturers' understanding and knowledge of the use of LEDs in general illumination applications.
The curriculum is targeted to include topics such as:
• Basics of LEDs
• Basic color theory and measurement
• Circuitry design for driving Cree XLamp LEDs
• Optical design for Cree XLamp LEDs
• Common problems and answers
"For designers who are creating efficient LED fixtures, using industry-leading Cree XLamp LEDs is only one element of a successful design," said George Li, Cree Hong Kong director of sales. "By helping our customers create more effective and efficient LED systems, we hope to accelerate the worldwide adoption of high-quality LED lighting."
Cree held a grand opening ceremony on July 25, 2008, with customers and honorable guests, including Mr. Chen Yan Sheng, president of the China Association of Lighting Industry.