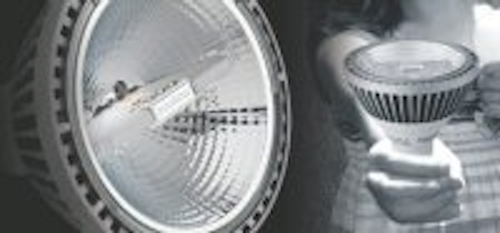 Acuity Brands, Inc. (NYSE: AYI), a major US-based lighting manufacturer, has introduced its
Acculamp product line
, the company's first-ever offering of LED lamps.
The new product line consists of a broad range of LED lamps for commercial and institutional applications, including retail, hospitality and education.
The LED-based Acculamp line is a result of the previously-announced business collaboration between Acuity Brands and Neonlite Electronic & Lighting (HK), Ltd.
Neonlite is a leading lamp manufacturer, whose products are sold under the Megaman brand. The Acculamp products bear a very clear similarity to Megaman's LED lamps. Rather than using lenses, the lamps use reflectors to direct the light from the vertically-mounted LEDs.
The inaugural S-Series Acculamp product line includes LED versions of PAR16, PAR20, PAR30, PAR38, MR16 and AR111 lamps, in multiple color-temperatures (CCTs) and various beam patterns.
Acuity says that lighting designers and specifiers now have "true replacement options for halogen and ceramic metal-halide sources." The press release states that the "specification-grade Acculamp S-Series provides excellent high center-beam candela power, high color rendering index (CRI) and overall quality of light, designed to direct light on task."
The new Acculamp S-Series, along with prototypes of omni-directional acculamp A-lamps, will be exhibited at the LIGHTFAIR® International Tradeshow in the Acuity Brands booth, #1801 as well as the Megaman US booth, #2726, May 17-19, 2011 in Philadelphia, PA.
"We have introduced Acculamp because our customers demand a complete portfolio of performance-driven LED luminaire solutions, and this includes LED lamps," said George Mcilwraith, Acuity Brands Lighting Senior Vice President, Luminaires and Lighting.
"Most of today's LED lamps lack the performance required for effective illumination in many critical accent lighting applications. Our new acculamp line has proven to be a preferred illumination choice after extensive customer validation tests and complements our industry-leading portfolio of lighting and controls solutions.
"The Acculamp line also offers customers the look associated with traditional lighting sources with unsurpassed optical control, excellent value in terms of service-life and energy-efficiency, and the confidence of a 5-year warranty backed by an industry leader," continued Mcilwraith.