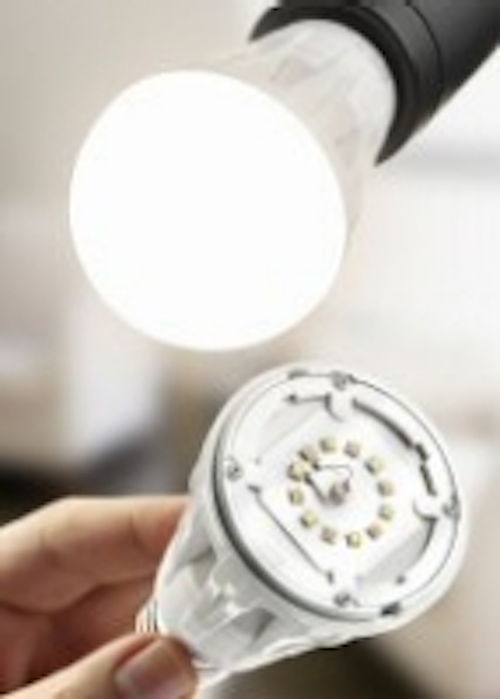 Osram Opto Semiconductors has unveiled an LED mixing concept named Brilliant-Mix, which combines white and amber LEDs to deliver warm-white light with high luminous efficacy (110 lm/W) and a color rendering index (CRI) of more than 90.
The light-mixing approach uses EQ-White and Amber versions of Osram Opto's 1W-class Oslon SSL LEDs. Measuring just 3 mm x 3 mm, these LEDs can be closely clustered, which makes color mixing easier and also improves the optical design at system level.
With intelligent control, Brilliant-Mix concept can cover a broad white-light spectrum from 2700 to 4000K. The typical value for the general color rendering index Ra (averaged sum of test colors R1 to R8) is 92 at a color temperature of 2700K. Test colors R9 (saturated red) and R13 (skin colors) are crucial for the natural rendering of red and skin tones, and values of 78 and 98 are claimed for these parameters.
Osram Opto says that the luminous efficacy of the Brilliant-Mix concept is more than 110 lm/W (details were not disclosed of the conditions where this value was measured). For a comparable color temperature and comparable CRI, Osram Otpo says that this value is 30 percent higher than individual warm-white LEDs that produce white light using phosphor conversion. Even in a retrofit lamp system, the concept can achieve 100 lm/W at the system level, claims the company.
The main applications for the new concept include high-quality lighting solutions for residential and commercial premises such as shops and offices. The high CRI ensures that colors and skin tones appear in artificial light as natural as they do in normal daylight.
Osram Opto says that the Brilliant-Mix concept has already been implemented in the Parathom Pro Classic A 80 LED lamp and in the PrevaLED module from Osram.
Osram Opto Semiconductors has developed a "logistical module concept" to make it as easy as possible for customers to select and order the appropriate LEDs. "Planning and implementing LED lighting systems requires an immense amount of calculation, so we are relieving our customers of this tiresome task," says Christian Neugirg, Business Development Manager SSL at Osram Opto Semiconductors.
"Customers simply have to tell us the light color, the temperature of the board and the luminous flux they want to achieve, and our logistical module concept then works out which LEDs and how many need to be ordered to meet these requirements perfectly," says Neugirg. Osram also offers application support for selecting the correct electronic control.
Osram issues disclaimer
Some aspects of the Brilliant-Mix concept may sound a little familiar. For example, LED Lighting Fixtures (LLF) developed a method to produce high-CRI, high-efficiency warm-white LED light using blue-shifted yellow and red LEDs. Cree acquired LLF and now markets this technology as TrueWhite.
Perhaps with this in mind, Osram has taken the unprecedented step of including a patent-related disclaimer in its press release, quoted in full below.
"Disclaimer: OSRAM Opto Semiconductors GmbH and its subsidiaries generally make no representations and warranties in cases where LEDs as offered or sold are used in applications that could touch potential intellectual property rights of third parties. For example, the LED applications described herein may be protected in certain countries by members of the patent families including US patents no. 6,234,648, 6,577,073, and 7,213,940."
The patents make interesting reading:
• US patent no. 6,234,648
Filing date: Sep 24, 1999, Issue date: May 22, 2001, Assignee: U.S. Philips Corporation Osram joined Philips' patent licensing program in September 2008.
• US patent no. 6,577,073
Filing date: May 25, 2001, Issue date: Jun 10, 2003, Assignee: Matsushita Electric Industrial Co., Ltd.
• US patent no. 7,213,940
Filing date: Dec 4, 2006, Issue date: May 8, 2007, Assignee: LED Lighting Fixtures, Inc. (now part of Cree).
Osram and Cree signed an LED patent-license agreement in April 2011.