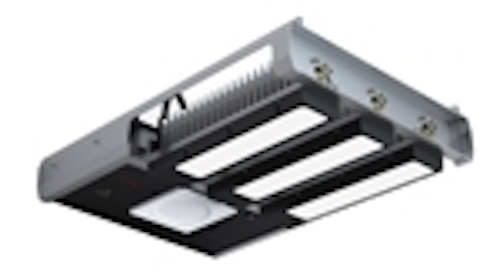 There have been a series of recent prominent customer wins (see links at right) for Boston, Massachusetts-based Digital Lumens and its LED-based Intelligent Lighting System, and now the company has established a new working capital line of credit and received $10 million in Series-B venture funding to grow operations. The latest investment will help expand the company's solid-state-lighting (SSL) sales and distribution programs to the international level, and further product-development efforts.
Silicon Valley Bank is providing the working line of credit. The second-round investment features full participation by prior investors Black Coral Capital, Flybridge Capital Partners, and Stata Venture Partners. Including the B round, Digital Lumens has now raised a total of $25 million in venture investments.
Clearly the existing investors are pleased with the progress Digital Lumens has made selling its Intelligent Lighting System that includes networked luminaires for high- and mid-bay industrial applications. Called Intelligent Light Engines, the LED-based fixtures support adaptive controls and dimming. The company's LightRules software is used to commission and manage an SSL network.
"The Company has rapidly taken a leadership position in the intelligent lighting market with an innovative, systems-based approach and superior products that are meeting customers' needs, while revolutionizing the economics of industrial lighting," said Jon Karlen, General Partner at Flybridge Capital Partners. "We see such compelling opportunities for Digital Lumens that, while outside interest was strong, the existing investors opted to expand our commitment instead. We are delighted to support Digital Lumens as it enters this next stage of growth."
90% energy reduction
Digital Lumens entered the SSL market in early 2010 boldly promising a 90% reduction in energy usage for warehouse and similar industrial application where lights can be dimmed to very low levels much of the time. In a warehouse, lights are dimmed anytime workers aren't in an aisle for example.
"The rapid adoption of the Digital Lumens Intelligent Lighting System by large industrial customers is the best evidence of our products' value," said Tom Pincince, President and CEO of Digital Lumens. "Customers are locking in major energy savings and reducing load on their utility partners -- all because of the Digital Lumens approach to energy-efficient lighting. We look forward to bringing intelligent lighting into new markets, and are very pleased that our investors are actively supporting our expansion."
Announced customers for the Digital Lumens system include Americold, United State Cold Storage, Maines Paper and Food Service, and others. The company states that its products already light millions of square feet of industrial space.
Digital Lumens has also strengthened its management team in recent months. Fritz Morgan joined as chief product officer coming from Joule Unlimited and having previously served as CTO at Color Kinetics. Mike Rubino joined as CTO coming from a similar position at A123 Systems. And former Stop & Shop CEO José Alvarez has joined the board.