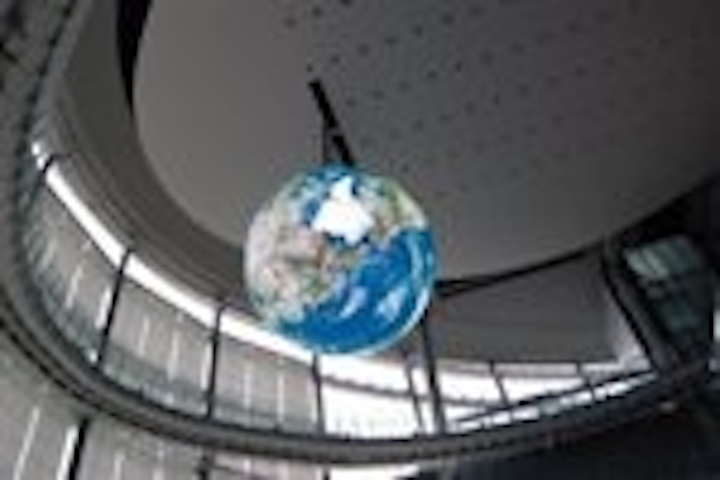 Visitors to the National Museum of Emerging Science and Innovation in Tokyo, Japan can now enjoy a 6m-diameter globe display that Mitsubishi Electric built utilizing 10,362 organic light-emitting diode (OLED) panels. And US auto racing fans that visit Charlotte Motor Speedway in North Carolina will experience instant replays and leaderboard statistics on a high-definition (HD) video board that stands 200-ft wide and 80-ft tall that Panasonic constructed using 9 million LEDs.
The Mitsubishi Geo-Cosmos display hangs 18m above the floor in the Tokyo museum replacing an older globe that was lit by LEDs. Mitsubishi says that the display can project 10 million pixels – 10 times more than the older LED globe. The new display was commissioned to commemorate the 10th anniversary of the museum.
Mitsubishi, along with partners Dentsu, GK Tech, and Go and Partners, constructed the globe using individual Mitsubishi Diamond Vision OLED panels that measure 96x96 mm. The panels feature a 3-mm dot pitch for each RGB pixel. The panels are mounted on an aluminum skin that forms the sphere.
The museum will use the global display to project the earth and to present other symbiotic scenes. For example, the display can project scenes of clouds and earth images captured from a meteorological satellite.
Charlotte Motor Speedway HDTV
The NASCAR Sprint Cup All-Star race on May 21 served as the debut for the largest HD video board in the world. Panasonic constructed the 16,000-square-foot screen using 158 panels made with LEDs.
The display stands 110 ft above the race track centered along the backstretch of the course. It is capable of playing video with 720p resolution.
The speedway said that the new board uses "280 times more LED bulbs than the Times Square Ball" that is used to celebrate the arrival of the New Year annually in New York City. The speedway noted that the New York ball can be seen from 50 blocks away and expects fans seated along the entire front stretch to have a clear view of the HD board.
The speedway conducted an operational debut of the HD board with the help of Dale Earnhardt Jr – one of NASCAR's biggest stars. Earnhardt demonstrated the HD capabilities playing a racing simulation video game displayed on the board.
"The Coca-Cola 600 [a May race at the track] is one of the best events we have all year long. Now fans can get a ticket to the race and have the experience of the live event with the comfort of their own TV at home with this big TV," Earnhardt Jr. continued. "This place just keeps getting better."
Indeed the speedway presented live action, video replays, race statistics, and interactive entertainment on the board. "This giant Panasonic HDTV will be a game changer for our fans on race day," said Marcus Smith, president and general manager of the speedway. "It will give them a whole new way to experience a NASCAR event at Charlotte Motor Speedway."