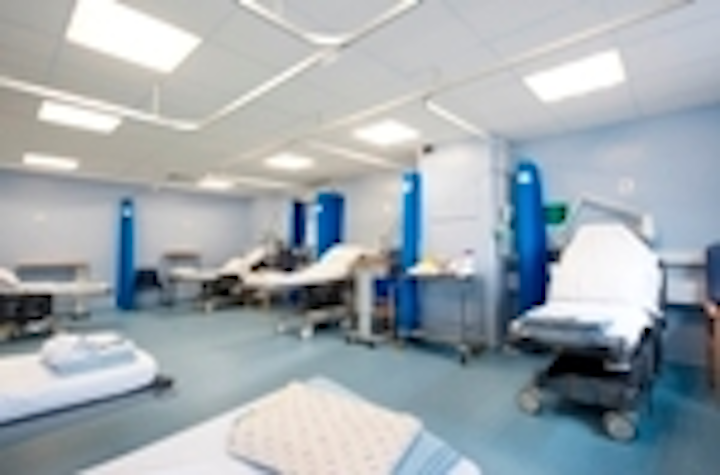 MHA Lighting Ltd. (Manchester, UK) has worked with the National Health Service (NHS) Trusts in the UK to combat hospital-acquired infection rates using a new technology involving sealed lighting units.
MHA Lighting's patented LED technology has been designed as a fully-sealed unit to stop dust, bacteria and deadly superbugs from gathering around warm light fittings.
The long LED lifespan (estimated at 60,000 hrs or seven years) also eradicates the needs for routine bulb replacement, which stops harmful bacteria from being distributed into the atmosphere.
MHA Lighting MD Tom Harrison said, "Not only is the NHS saving money on operational cost for routine light maintenance, but our LED's burn 20% of the energy of traditional fluorescents.
"The Carbon Reduction Commitment Carbon Tax on large organizations such as the NHS means for every tonne of carbon saved, hospitals receive £12 ($19.50). This money can be directly ploughed back into front-line patient services," said Harrison.
Hospital lighting needs – 4000 K, dimming
The Manchester-based lighting specialist has completed numerous lighting refurbishments for the NHS as well as the private health care sector.
MHA recently completed an installation in North Devon District Hospital in Barnstaple, which is part of the North Devon Healthcare Trust (NDHT).
There MHA replaced traditional 72W fluorescent lamps with 4000 K Tilite 20W and 30W LED units in wards (see photo), corridors and reception areas.
The correlated color temperature of 4000K is the color required by the NHS to provide ideal light quality for examining patients or the cleanliness of the facilities.
Harrison described MHA's technology, "Unlike other LED technologies, the light is not shone directly out, it is shone sideways and reflected out in a uniformly distributed manner," he said. In this way, he added, the photometric performance of traditional lamps can be achieved while providing the energy and maintenance savings of LED technology.
MHA Lighting also developed a custom dimming solution for NDHT to allow lights to be dimmed down to 5%. It was fundamental for the Trust to create a more pleasant and healing environment where patients and staff are in control of ward lighting levels during sleeping hours, for example.
The Trust reduced its energy usage from 127,910 kWhr/yr to 33,044 kWhr/yr. Overall carbon emission reductions with the integration of dimmers have exceeded 75%.
Moses Warburton, re-development manager of NDHT, said: "NDHT already has an enviable standard on carbon reduction and this is part of our continuing commitment to reduce our carbon footprint.
Warburton added "It [the new lighting] has created a much better atmosphere for our patients and staff. Even light and less flicker is a huge improvement for those patients with sight problems."