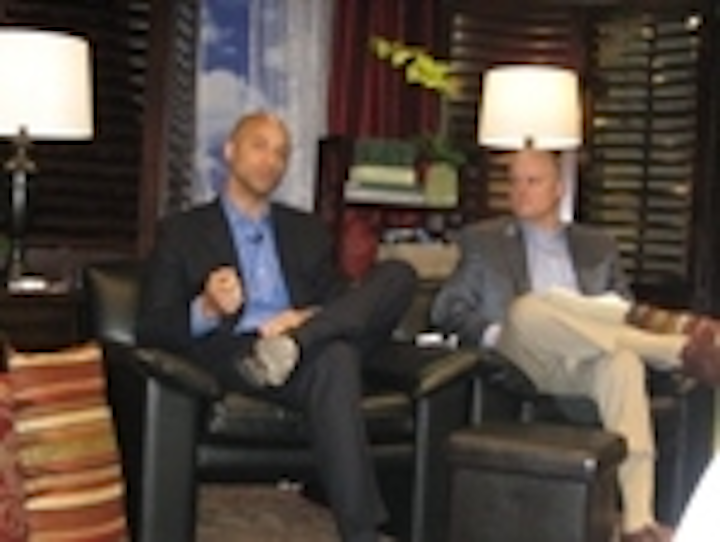 When Thomas Edison developed the first light bulb in 1879 it lasted less than 14 hours. Today's LED lamps are rated for 25,000 hours – that's 22.8 years when the lamp is operated for three hours a day. "You need to make sure you can count on the company that supplies that lighting solution," said Jaime Irick, president and CEO of GE Lighting Solutions. In a recent press conference at the company headquarters at Nela Park in Cleveland, Ohio, Irick outlined a future of lighting that is dominated by solid-state solutions, making all other technologies obsolete, eventually.
GE has made a stronger investment in its LED sector recently, increasing its R&D personnel by 2.5X in the last three years. In Cleveland, they have 30 LED technologists researching next-generation optics, thermals components and electronics, while 90 LED engineers investigate performance, timing and reliability. This group developed GE's 40W-equivalent,
450-lm LED lamp
on which its subsequent 60W-, 75W- and 100W-equivalent LED lamps will be based.
In the meantime, customers in the US will also have the choice of high-efficiency halogen bulbs, CFLs or LEDs to meet the energy-efficiency standard requirements of the Energy Independence and Security Act of 2007. "It's all about choice for our customers, but they were looking for more energy-efficient alternatives, even before the legislation was enacted," said Irick.
When asked when LEDs are likely to penetrate the general indoor-lighting market, Irick said he expects that to still be 10 years in the future. However, LED costs are coming down at approximately 20% per year, and the introduction rate for LED lamps has accelerated. "We have 70 Energy Star LED products now and will have 120 by the end of the year," said Irick.
Form dictated by customers
Irick points out that customers are dictating the form that lighting will take. "While other companies may have product expertise, GE's will offer the best system-integration platform, bringing together the LED module, thermals, optics and drivers to provide the most efficient lighting platform for the application." One example is GE's LED edge-lighting fixtures, which are based on backlighting technology, and use LEDs around the perimeter of the panel and Rambus MicroLens technology to distribute the light uniformly across the panel (see picture).
Irick said that people are just beginning to envision new lighting applications. For instance, on airplanes, controlled RGB LEDs are being used in cabin lighting to help passengers sleep during night flights.
Irick indicated that the industry is in a period of transition. He said that GE is behind the efforts of the FTC with the new Lighting Facts label. "The DOE has found that nearly thirty percent of the products tested in its Caliper studies do not meet manufacturer's performance claims. In fact, we have already seen some products being pulled from retail shelves," he said. "This will help level the playing field."
GE is already seeing a shake-out of manufacturers. John Strainic, global product general manager at GE Lighting claimed this is similar to the consolidation they saw with the CFLs when they began to replace incandescent bulbs, which took 5-7 years to complete.
Product reliability is a cornerstone of GE's operations. While the company does not manufacture LEDs, their reliability laboratory performs incoming qualification and accelerated lifetime testing on LEDs and LED modules. "Not all lighting manufacturers test their LEDs, but we have rigorous testing requirements and over ten years of field test data," said Cherian Jacob, systems manger of GE Lighting Solutions.