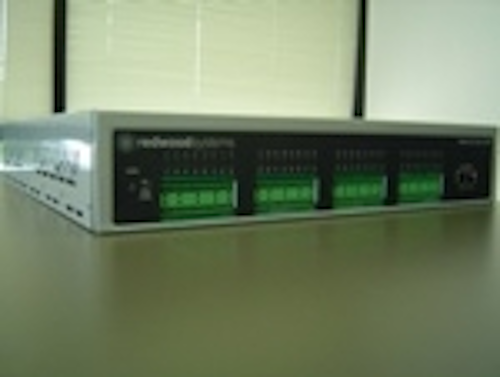 MaxLite and Redwood Systems have announced a strategic partnership through which MaxLite will offer products in its LED-based MaxLED luminaire series that can be powered with Redwood's DC-based Redwood Engine. The distributed Redwood system consolidates power-distribution and control-signaling functions on Class-2 cabling and MaxLED will offer compatible fixtures.
"The combination of MaxLite's high-quality LED luminaires with Redwood Systems' low voltage power and control architecture offers incredible value to our customers," said Bruce Pelton, senior vice president of lighting technology for Redwood Systems. "This combination enables a lighting system that provides the right amount of light through simple-to-use controls to maximize energy savings and luminaire lifetime."
The Redwood Systems lighting platform includes the Redwood Engine that supplies the low-voltage power and control capabilities, management software, dimmer modules, and sensor/adaptor modules that connect to legacy SSL products. The system includes plug-and-play deployment with automatic fixture commissioning.
Redwood value proposition
The Redwood value proposition is a combination of inherently-efficient SSL, sensing and adaptive-control capabilities that compound energy savings through dimming, more-efficient centralized DC power distribution, and Class-2 installation that works with inexpensive computer-network cables.
Now MaxLite will integrate support for the Redwood technology in select products as the latter does not intend to manufacture luminaires. Previously, Redwood had announced a partnership with Lunera Lighting with the latter planning to support Redwood technology in its planar SSL fixtures.
MaxLite expects the partnership to open new avenues of business for its SSL portfolio. David Wyatt, vices president of western sales, said "We expect to find many synergies with our LED lighting line and Redwood's control platform to build inroads into the low-voltage electrical and lighting distribution channel."
MaxLite announced the MaxLED line back in October. The product family includes planar light panels, LED wall packs, surface-mount garage and canopy lights, and many other fixture types. Generally the company projects 50,000-hour lives for the products.
Redwood Systems launched in March 2010. The company has begun to gain some traction with several notable deployments including an installation at Volkswagen's new R&D center in Belmont, CA. Moreover, the company recently announced $3.5 million in second-round funding from Mitsui Global Investment.