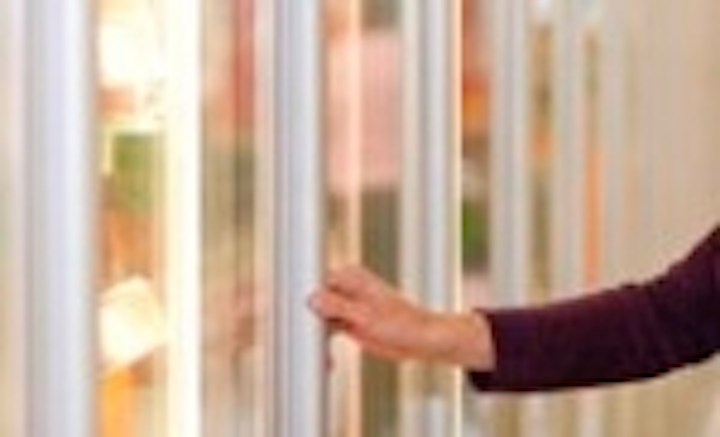 Nualight (Cork, Ireland), a specialist in LED lighting for the food retail sector, has secured a multi-million dollar deal to install its LED lighting in freezers and ice-cream cabinets throughout 800 UK-based stores owned by the Co-operative Group (Manchester, UK).
Nualight's Porto lighting will be installed in the doors in low-temperature merchandising cabinets and its Alto canopy lighting will be installed in ice-cream display cabinets throughout the stores.
Porto and Alto have been designed specifically to reduce energy consumption, but also to make food displays look brighter, fresher and more colorful.
For instance, the low-wattage
Porto 600 LED lamp
is designed to be invisible from the customer's point of view while still enabling brighter lighting of products.
LED's niche in freezers and refrigerators
Food retailers in the UK has already transitioned to doors on frozen food displays as an energy saving measure and are beginning to apply the same measure to refrigerators (chillers). However, this has led to problems with dark spots across the face of food displays where the light cannot reach. Nualight's Porto door lighting produces bright and uniform lighting for freezers and refrigerators with doors.
Liam Kelly, CEO of Nualight said, "Our lighting delivers significant energy savings of over 70% when compared with fluorescent technology and it is also maintenance-free. We're delighted that our technology can play an important part in The Co-operative Group's ambitious ethos of responsible retailing."
For high-margin food displays such as ice cream and luxury desserts, it is vital that the lighting also brings out the richness of color in the packaging. Alto canopy lighting delivers high CRI, boosting color vibrancy in the products on display.
Co-operative's sustainability agenda
"The motivation for introducing Nualight's LED lighting solutions to our stores arose primarily from our unique commitment to sustainable retailing practices," explained Alex Pitman, Energy and Carbon Manager at the Co-operative Group.
The Co-operative has over 3000 food stores and supermarkets around the UK. It focuses on quality with honest, ethically sourced products and has an ambitious Corporate Social Responsibility (CSR) program. A survey in 2008 found The Co-operative to be Britain's greenest supermarket. The company has the toughest carbon reduction targets of any major business in the UK.
The Nualight transaction with The Co-operative follows a similar Nualight deal with Tesco in the UK last year as well as with the Fresh N Easy chain of stores in the US.
Other European retailers who are benefiting from Nualight's LED technology include Morrisons, M&S, Sainsbury's, Migros, Tengelmann and Coop Switzerland.
Nualight has the largest installed base of horizontal LED lighting globally and is successfully rolling out its products in 20 countries with major global retail players such as Tesco (Europe), Ahold (US) and Coles (Australia).