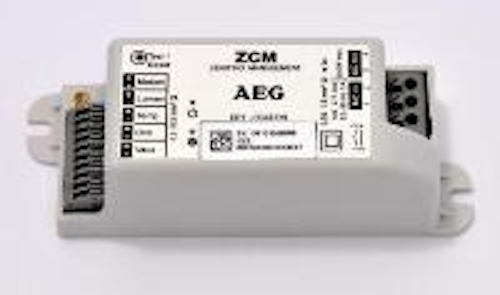 AEG Power Solutions has announced the ZCM-C ZigBee-based modular lighting controllers with support for persistent network-based-control scenarios or standalone operation. Solid-state lighting (SSL) product developments are a typical target for the product because of the inherently controllable nature of LEDs both in instant-on/off and dimming capabilities. Savvy lighting specifiers could also add the controller to luminaires without the support of the fixture manufacturer, or install one controller for a group of fixtures such as downlights.
AEG had initially announced the ZCM family late last year with the ZCM-Z family that requires commands from a ZigBee-based central controller for operational scenarios. The new ZCM-C includes that functionality but can also be preprogrammed for autonomous control scenarios — for example, based on inputs from motion, light, or temperature sensors. An integrated real-time clock also allows the controller to run time-based control scenarios in a standalone configuration.
The controllers include a relay that allows remote or programmatic switching of AC power to a light fixture. Moreover, the controllers can control dimming via a 0-10V analog output, or optionally through a pulse-width modulation (PWM) output that is specifically designed for use with LEDs.
The ZCM-C is rated for use with AC lines as high as 305V. Maximum power is limited to 500W. The controller is powered directly from the AC line input to the fixture.
AEG says that adding the controller to an LED-based luminaire can deliver additional incremental energy savings as high as 70%. "With the introduction of the ZCM-C Series, we are allowing customers to realize more return from their investment in LED lighting by further lowering energy consumption of the entire system," said Robert Vosburgh, North America sales director for AEG. "The value proposition of LED lighting is its payback over a long period of time. Sophisticated, real-time control of light intensity dramatically reduces the payback period."