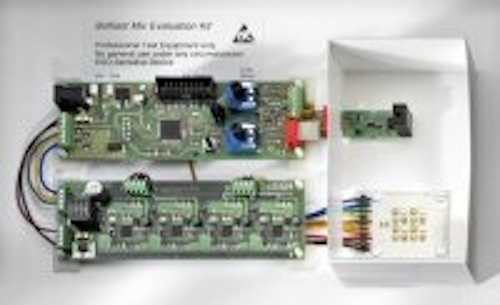 The usability and flexibility of the
Brilliant Mix LED color-mixing
concept from Osram Opto Semiconductors has been enhanced by the development of a Universal Controller.
The controller concept was developed as part of the LED Light For You (LLFY) suppliers' network, and the project also involved from Elec-Con Technology, driver IC maker Infineon Technologies and sensor specialist MAZeT.
The Brilliant Mix approach combines the output from an array of LEDs with different colors (white and amber for warm-white colors, bluish white and blue for cooler white). With suitable control, the color temperature can be varied from 2700K (warm white) to 6500K (cold white).
The required luminous flux can be achieved by using an appropriate number of LEDs. However, until now, control of the LEDs has required a certain level of know-how at the system and application level. Customers typically had to develop or modify controllers that could control individual channels and maintain the desired color point, while compensating for temperature changes in the module or luminaire.
Universal control
The new controller has a modular structure, meaning that the controller unit, driver and sensor are separate components. This gives luminaire designers greater flexibility because the components do not have to be adjacent to one another.
The standard version of the driver has four channels so that individual LEDs – for example in different colors – can be controlled individually. Multiple drivers can be connected to a controller to improve performance.
The controller can be customized, but is also available in a standard version, either with or without a sensor. It can be adapted to current building-systems standards, such as DALI, KNX and EIB.
The sensor enables the required brightness and color point to be controlled in accordance with preset customer-specific values. This ensures, for example, that all the luminaires in a room have the same appearance.
It is also possible to adjust the LEDs throughout their lifetime so that different rates of aging among LEDs of different colors do not have an adverse effect on the overall effect of the light.
Dieter Bauernfeind, Managing Director of Elec-Con Technology, said: "The modularity of the system makes it easy for us to meet specific customer requirements and supply relatively small production runs."
The main benefit of the Universal Controller is to speed up the implementation of lighting solutions because specialist know-how is no longer required. Brilliant Mix applications can therefore be put into practice quickly, easily and economically with efficient use of resources.
"True to the purpose of our network – namely to offer our customers simple solutions – we have developed the Universal Controller in cooperation with our partners," added Sebastian Lyschick, responsible for LED Light For You (LLFY) at Osram Opto Semiconductors.