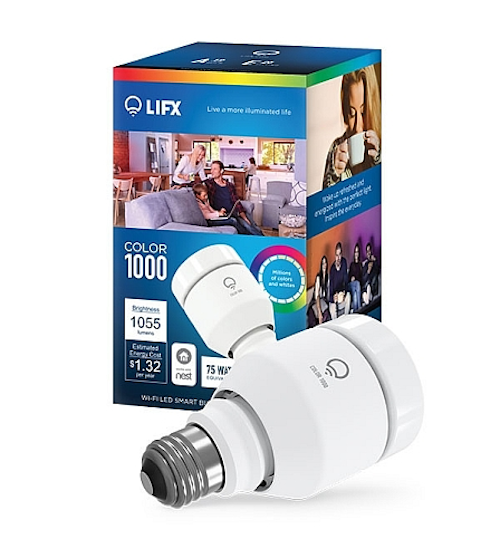 Not long ago the smart lamp was $100. Now it's set at $50.
LIFX, the Bay Area pioneering startup of the color-changing, Wi-Fi-connected LED lamp, has in its 3-plus years drawn accolades for its technology but has also raised eyebrows for high prices. Now, it has implemented its second price cut in recent months, listing the LIFX Color 1000 for just under $50.
Interested in more articles & announcements on connected LED lamps?
The $49.99 "limited time only" offer on the company's holiday-themed website follows a reduction to $60 in October. Prior to that the lamp was selling for around $100 — a hefty price for consumers who, thanks to a hundred years of maturing incandescent technology, still think of light bulbs as $1.00 items.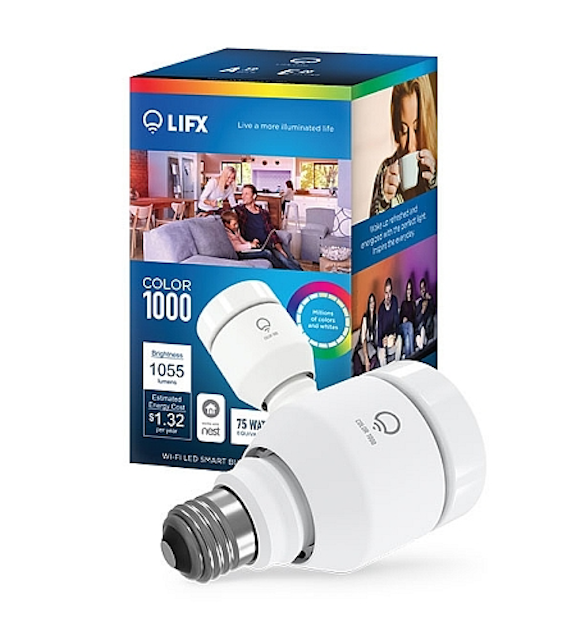 LIFX cuts price - again - on color-changing LED lamp
The Color 1000 provides all the energy-saving features of LED lamps while also offering a mix of 16 million colors tunable with an app via Wi-Fi embedded in the lamp. Users can also control its brightness up to 1000 lm, and can alter its color temperature. We recently included the LIFX connected lamps as part of our Tech Toys round-up.
Unlike other color-changing smart lamps such as Philips' Hue, LIFX does not require the consumer to purchase a costly hub and starter kit; rather, the Color 1000 responds to app controls with no intermediary technology that adds cost.
By comparison, users who want to replace existing bulbs with Philips' color-changing Hue LED models have to first buy a "starter kit" before they can purchase individual bulbs. In the US, Home Depot is currently selling the Philips starter package online for about $200.
While reliable sales figures were not immediately available to LEDs Magazine, it is likely that LIFX bulbs, even at the post-October $60 level, have not yet hit mass market levels. It will be interesting to see what effect the new $50 price might have. The prices have not tumbled everywhere. In the UK, retailer John Lewis is selling the LIFX Color 1000 for £60 ($89).
Redwood City, CA-based LIFX was a darling of the crowdfunding and digital lighting world when in 2012 it famously raised $1.3 million in donations on the website Kickstarter, and subsequently began shipping its $100 lamp.
Earlier this year, the company added a white-only model, tunable in brightness up to 890 lm and in color temperature from 2700K to 6500K, currently listing on the LIFX website for $40.
Strategies Unlimited predicts that the market for smart connected lamps in the residential, retail and hospitality sectors will reach $650 million by 2020, noting that it was under $25 million last year.
In addition to LIFX and Philips, vendors include GE, Cree, TCP, Osram Sylvania, and others, which offer a mix of color and white-only controllable lamps.
MARK HALPERis a contributing editor for LEDs Magazine, and an energy, technology, and business journalist (markhalper@aol.com).