i-Vision and VSI hit the jackpot
Two UK companies have installed LED lighting in a bingo hall disguised as a castle.
Feb 14th, 2005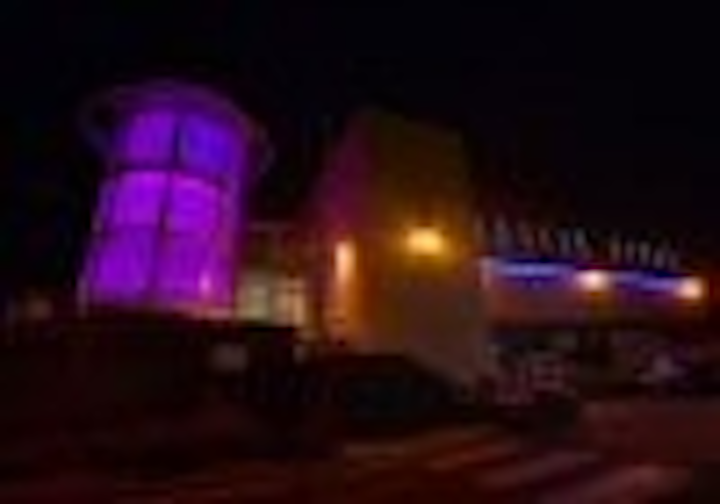 Vaughan Sound Installations (VSI) and feature lighting specialists i-Vision collaborated to design, specify and commission phase one of an attractive architectural lighting scheme at the purpose-built Castle Bingo venue in Bridgend, South Wales, UK.
The 1000-capacity site, completed in 1999, was due for an upgrade, to create a prominent landmark. The lighting element of the project involved illumination of the venue's glass Tower Club elevation with LED lighting fixtures. Below the 12-metre high tower inside the building is an area used for VIP functions and special receptions.
As well as having a high visual impact, the installation was required to be energy efficient and have low power consumption, running costs and maintenance requirements. It also had to fit with the budget of £20,000.
There were 18 panels of glass bricks in the tower that needed lighting. I-Vision's Geoff Jones illuminated each one with two of the company's Lumos 600 LED strip lights - 36 in total, attached to the panel. For an even and condensed spread of the light over the glass blocks, the strips are fitted with a 25 x 6 degree optic on the LED lenses.
All strips are driven by I-Vision's new Lumos 36 driver. Benefits of this include robust connectors for mains LED and DMX inputs and a 7-segment digital display, with DMX 'up' and 'down' buttons that standardises the driver unit's operation with most industry standard lighting fixtures and equipment.
The LEDs are still PWM-driven for incredibly smooth dimming, even at the low end. The pulsing frequency has been increased from 50-60 Hz to 1500-2000 Hz, resulting in virtually flicker-free operation.
Control is from a pre-programmed Sunlite unit giving the client access to 8 preset scenes and sequences plus override. Each panel's lighting can be individually controlled, making for eye-catching colour chases.
The scheme has successfully achieved the objective of the tasteful introduction of some visual pizzazz into the world of Bingo without being garish and glitzy.