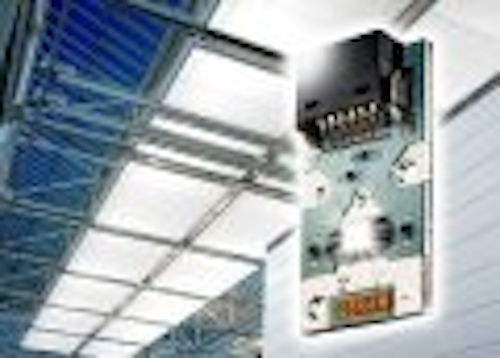 This week at the INTEL show in Milan, Italy, Osram Opto Semiconductors is demonstrating a 200-lumen white version of it Ostar LED module, which the company says is likely to be suitable for general lighting applications.
The 3 x 1 cm Ostar contains four blue ThinGaN chips and is rated at 10W, with an operating current of 700 mA. Samples and technical data sheets will be available end of June.
The white source has a lifetime of more than 50,000 hours, and, with a low profile of just six millimetres, Osram believes that it gives designers enormous freedom to incorporate the Ostar into luminaires.
The chips use ThinGaN thin-film technology, where almost all the light generated is emitted from the top, rather than the sides, of the LED. White light is producing using a converter material applied directly to the chip (the so-called chip coating method) rather than being dispersed within the encapsulation material. Osram says that it has developed special processes to make sure that the homogenity and thickness of the converter material is constant, to produce a constant white appearance from any viewing angle.
Full-color camera light incorporates Osram LEDs
Frezzi Energy Systems (Hawthorne, NJ) has introduced a full-color LED camera light for broadcast camera applications which incorporates Ostar LED modules from Osram Opto Semiconductors.
The product was showcased at last month's National Association of Broadcasters (NAB) Conference in Las Vegas, NV, where it won both the Government Video Solutions Award, recognizing innovative achievement in the advancement of video technology, as well as this year's Superior Technology Award (STAR2005).
Frezzi Energy Systems, a leader in portable lighting systems for videography and broadcast news, has used the Ostar in its latest full-color LED camera light to achieve a concentrated source of densely packed, high-power illumination.
Frezzi's FS-LED full-color camera light incorporates an Ostar light source comprising two green LED chips and one red and one blue LED chip densely packaged together on a substrate. Frezzi's FS-LED light source weighs only one pound, has preset color temperatures of 3200K and 5500K and provides users with the ability to define color presets.
"Osram's Ostar LED technology enables today's camera lights to offer tunable colors and better dimming functionality than traditional light sources or even monochrome white LED light sources," said Kevin Crawford, VP of engineering, Frezzi Energy Systems. "By incorporating full-color LED technology into portable light sources, users take advantage of simplified lighting with more flexibility."
"The FS-LED is one of the first products to leverage the advantages of our thin-film technology in a red-green-blue (RGB) configuration for illumination, demonstrating the versatility of the Ostar," said Ellen Sizemore, director, LED Products Group, Osram Opto Semiconductors.