Cree unveils 3-watt XLamp power LEDs
Cree moves the goalposts with a new 3-watt white XLamp that has an average luminous flux of 85 lumens.
Jul 25th, 2005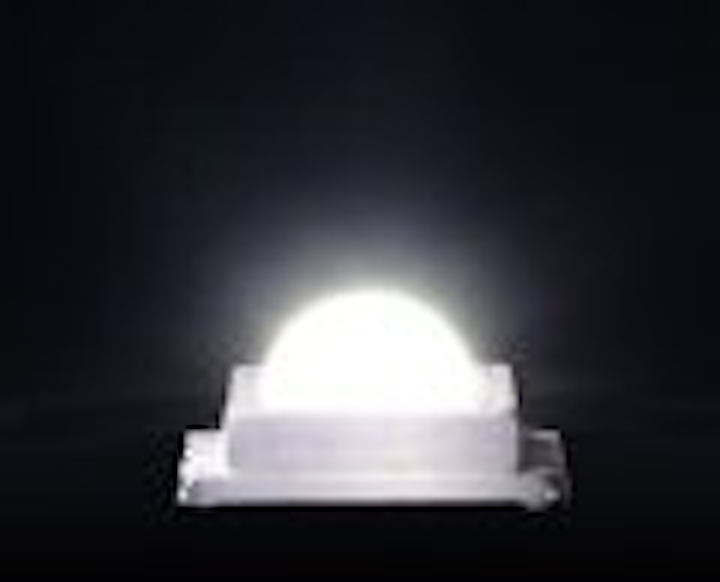 Cree Lighting has released a new 3-watt XLamp 7090 high-power LED in a full range of colors.
At the same time, Cree announced its first design win for the white 3-watt XLamp.
Cree says that the white version of the new XLamp LED is the first 3-watt product to produce a maximum luminous flux of more than 90 lumens. The XLamp 3 7090 white LED achieves an average luminous flux of 85 lumens, well above the 65 lumens typical rating reported for existing 3-watt LEDs.
"Cree continues to advance brightness levels and reduce dollars per lumen for high power LEDs with the release of the new XLamp 3 7090 LEDs," noted Norbert Hiller, Cree Lighting vice president and general manager. "We are pleased to be able to respond to significant market demand for higher levels of brightness from a small form factor."
Hiller added that the XLamp product family now ranges from 0.5-watt to 3-watt products, meeting a broad range of market needs for LED-based portable, architectural, entertainment, signal and transportation lighting.
XLamp high brightness LEDs are currently available in production quantities in 0.5-watt (125 mA), 1-watt (350 mA) and 3-watt (700 mA) versions, all offering a spectrum of precise binning options and a full range of colors. The XLamp family features Cree's unique electrically neutral thermal path and surface mount technology.
XLamp powers Cyberlux light
At the same time, Cree announced that its new white LED will be incorporated into Cyberlux's new RelyOn portable work and emergency light.
"Based on the new 3-watt XLamp LED, Cyberlux's new RelyOn portable emergency light achieves more than 60 hours of operational spot and flood lighting," said Mark Schmidt, Cyberlux president and COO. "Cyberlux is developing a broad range of products based on Cree's XLamp LEDs for emergency, task and large scale lighting applications."