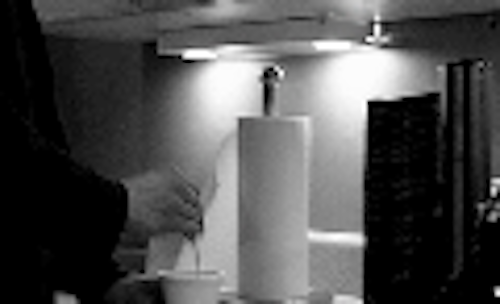 Permlight Products has begun shipping its
Enbryten Under ENBU Series
of dimmable LED under-cabinet lighting fixtures for residential applications.
The ENBU Series features six Cree XLamp LEDs and is rated at a maximum of 10 Watts; it consumes less power than conventional fluorescents, and is much more energy-efficient than its warm white halogen or xenon competition.
Permlight says that the Enbryten Under is already scheduled for installation in production homes in Southern California this fall.
The ENBU Series is the first production product to use Permlight's newly introduced phase control dimmable technology that operates on line voltage (120VAC) and works with any off-the-shelf dimmer.
"By using conventional dimming technologies the cost of installing and controlling an LED luminaire can be near the price to operate a conventional incandescent or fluorescent lighting system," commented Manuel Lynch, President and CEO of Permlight.
"Combining Cree's robust XLamp technology and Permlight's patented thermal management architecture results in a low cost fixture comparably priced to those used in production homes today."
The use of six Cree XLamp LEDs in Permlight's modular PX architecture not only results in a low cost fixture but also offers a serviceable technology that can be repaired and upgraded with a Philips screwdriver. The ENBU Series features a three-year warranty from Permlight with an expected lifetime in residential applications of 15-20 years.
The slimline 18-inch long by 4.5 inches wide by 1.5 inches deep powder-coated fixture mounts easily under kitchen cabinets and attaches to incoming Romex on the back wall of the kitchen back splash in the same way fluorescent fixtures mount today.
The product line is ideally suited for complementary use in granite or earth-tone marble kitchen counter applications bringing out the richness of the stone.
"Permlight's ENBU LED under-cabinet lighting is an exciting introduction for the home lighting design and construction market," notes Norbert Hiller, Cree Lighting vice president and general manager. "Permlight products are designed to make adoption of LED lighting for the home lighting market quick and easy and Cree is excited to be supplying the power LEDs for these modern, adaptable and extremely useful new lighting fixtures."
The Enbryten Under ENBU Series can be custom configured online at www.enbrytenLED.com with prices from $50-75 depending on LED color (offered in any color lighting), intensity, and dimming options.