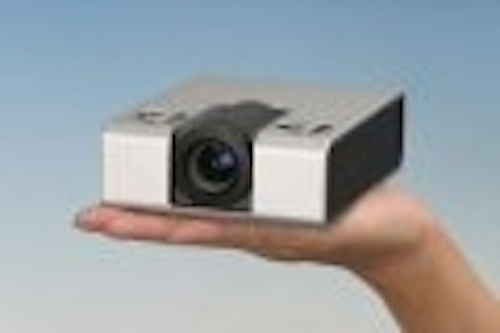 Epson has unveiled a prototype postcard-sized mini projector using an LED light source, writes Jacqueline Hewett, technology editor of
Optics.org
. The projector has dimensions of just 13.8 x 10.3 cm, and the Japanese electronics giant says this is the first time it has combined LEDs with its popular 3LCD projector technology.
A projector based on Epson's 3LCD technology typically uses dichroic mirrors to split white light from a standard projector lamp into red, green and blue. Each of these components are then passed through an LCD panel, recombined by a prism and then projected onto a screen.
"The prototype uses six LEDs: two each for red, green and blue, so it can project color images," Alastair Bourne of Epson told Optics.org.
As well as allowing a compact design, Epson says the LEDs offer several advantages over conventional projection lamps including rapid turn-on and turn-off and a long lifetime.
The prototype made its debut at the IFA consumer electronics trade show which was held in Berlin, Germany at the start of the month. "The device can project real-time images as well as still images," said Bourne. "At the IFA show it was hooked up to a DVD player."
According to Bourne, the prototype runs off a standard power supply and comes with a USB interface. Although the company has no immediate plans to market the mini-projector, Epson believes that its prototype demonstrates just how compact mobile 3LCD projectors could one day become.
"Projectors using 3LCD technology already have advantages in terms of bright, natural image that are easy on the eyes," said Koichi Kubota, Epson's general manager of projector marketing. "This development is yet another example showing the potential of Epson projectors and Epson projector technology."
Mitsubishi and Toshiba
Other Japanese manufacturers such as Mitsubishi have also demonstrated LED "pocket projectors". At the IFA show, Toshiba unveiled a similar device, stating that it could be used to connect to 3G multimedia handsets.
The LED projector weighs 565 grams, features SVGA (800 x 600) resolution using a 0.55-inch digital mirror device (DMD) chip, has a contrast ratio of 1500:1 and uses USB connectivity. The 250-gram battery can run for two hours off-line and recharges fully in three hours, according to the company.
Because the system uses LED technology, it does away with the need for both a lamp and a color wheel. A panel fitted with different colored LEDs serves both as the light source and determines the colour of the projected images. Compared with standard lamps, which generate significant amounts of heat, the LED-based projector can be run without needing a fan.
The projector is set to be available by year-end, with a recommended retail price of approximately 999 euros (about $1,250).