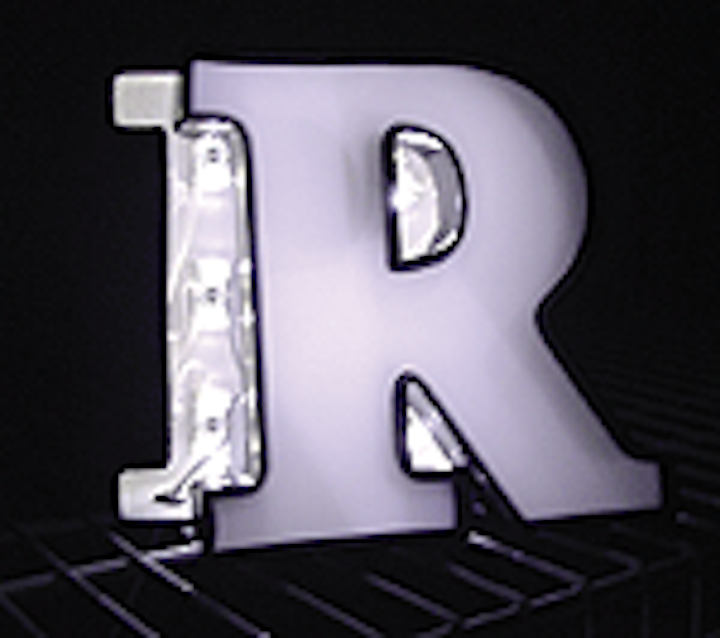 Permlight Products has begun shipping its new PZ Series White LED system in volume to sign fabricators. The product is designed to replace high-output designer white neon at prices of $10-15 a linear foot.
Permlight also recently introduced a 4-inch recessed LED can light for residential applications.
The Permlight PZ Series features the latest developments in high output white LED technology from Japan-based LED supplier Nichia.
Permlight says that the new system features lumen per watt (lm/W) efficacy almost 2x better than other white LED systems on the market. The PZ-White Series consumes only 2 W per linear foot (1 W per module) and can be used for channel letters that are as shallow as 2.5-inch deep and 12-inch high to letters that are 7-9-inch deep and 48-60-inch high.
According to Permlight, the PZ Series combines the flexibility of its Twiste'R product lines and the intensity of its El Blanco White LED systems into one highly flexible and low cost system.
"The PZ Series introduction highlights Permlight's commitment to constantly improving its line of channel letter products," said Manuel Lynch, president and CEO of Permlight.
"Our Twiste'R products are used globally to light white signs ranging from Sprint/Nextel signs to The Cheesecake Factory while our El Blanco lights signage for CHASE Bank and Intercontinental Hotel," continued Lynch. "The PZ takes the best features of both products and combines into an extremely flexible and high brightness LED system. It has already been used on some high profile retail stores which we look forward to announcing shortly."
The PZ Series operates at 12V Dc and consumes 1 watt per module with spacing of 2 modules per foot. Each module comes with pre-applied VHB tape and the entire system is weather coated and UL Recognized for exposed wet applications. Ultra tight color binning and enhanced lifetime of the LEDs means less than 10% degradation or color shift over 30,000 hours.
The PZ Series at normal spacing has equivalent output to designer white neon in 5-inch channel letters with prices ranging from just under $10 a foot to $18 a foot depending on volume.
"Not only is the PZ Series the brightest white LED system in the industry," commented Lynch, "but it is also almost half the price of competing products and near the cost of high-output white neon, notwithstanding that the system consumes one-eighth the power of typical neon systems."
Permlight can lights win green award
In related news, Permlight Products has announced that its Enbryten LED Recessed Can Lights and Pendant LED Luminaires have been selected by the editors of GreenSpec and Environmental Building News as one of the Top-10 green building products for 2005. Enbryten LED Luminaires are an energy efficient and low-cost alternative to traditional lighting as well as being an environmentally friendly source of lighting.
"Permlight is pleased to be recognized for their development of a product that supports the company's commitment to environmental responsibility and energy reduction in the residential construction market" commented Manuel Lynch, President and CEO of Permlight Products "it is an area of product development and sales that we are looking forward to continuing to grow."