i-Vision lights roof of London's Science Museum
Advanced solid-state lighting technology provides an appropriate decorative effect in a scientific museum.
Aug 16th, 2005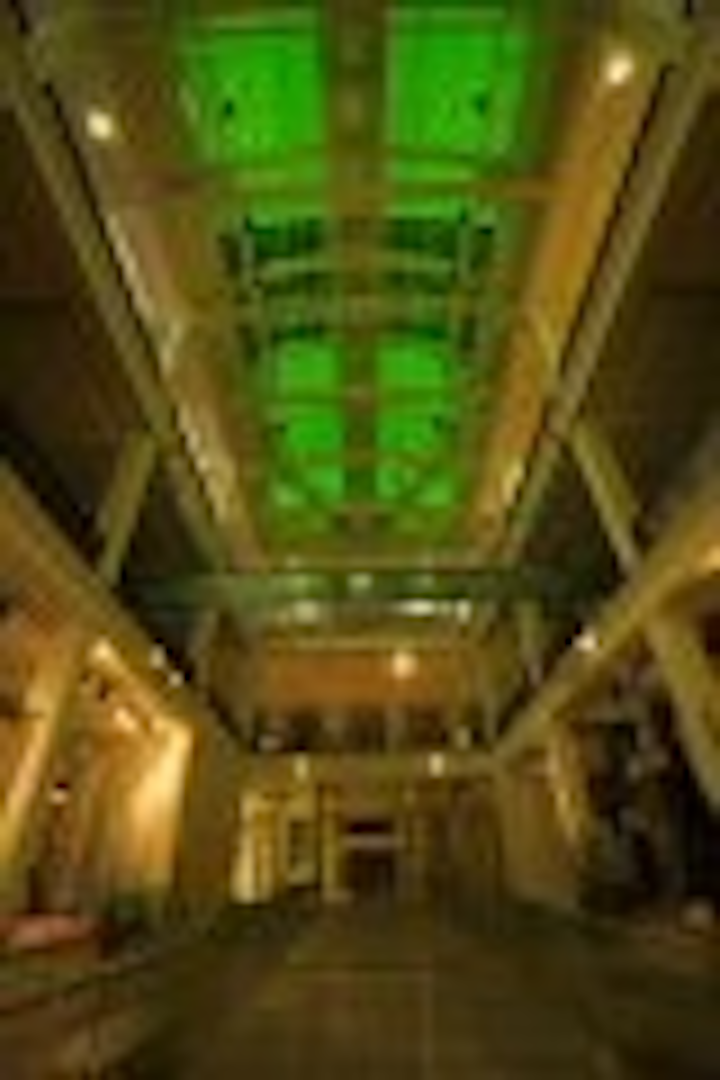 Architectural lighting specialists i-Vision have designed, specified and commissioned an eye-catching LED lighting installation in the new steel roof structure of the Energy Hall at London's Science Museum.
Since the Energy Hall houses energy-related exhibits, it made sense to seek out an energy efficient lighting scheme.
i-Vision's project manager Luke Dodd realised strips were the ideal solution for the given application, and proposed that i-Vision make 30 bespoke Lumos Strip 2400 RGB (non optic) to be installed alongside the LED floods that architects Ward McHugh Associates had originally considered using.
The curved roof is 40 metres long with a 15 m span, and the 30 RGB Lumos Strip 2400's run end-to-end right along both sides, mounted on a concealed tray pointing upwards, and boosted with 10 i-Vision RGB Lumos Flood 36's per side. The LED emits a powerful, radiant glow enveloping the white corrugated steel structure of the roof in a series of rich saturated colours.
The installation is the first to utilise i-Vision's new, compact, highly efficient LumosDrive 216 LED driver. The increased capacity of the new Lumos Drive 216 enabled i-Vision to specify 12 driver devices instead of the 70 individual units that would have been needed before the release of the new product.
Lumos Drive 216 makes installation quicker, is more user friendly and easier to programme than the previous drivers available. It is compact, lightweight, multi-functional, highly specified and lowers the total cost of each LED fitting.
States Dodd, "It's a really positive move for us to now offer a dramatically reduced cost-per-LED driver, making LED systems even more affordable to end-users".
The scheme is controlled by a single Sunlight DMX Software system, complete with 8 button scene recall panel.
Access in the roof was a major challenge with the install says Dodd. The team had to physically work on a 15 inch shelf running around the edge of the roof to install the fixtures, below which was a straight 4 storey drop to the museum floor!
Lead architect Kelvin Fallow comments, "LEDs were chosen because cutting edge technology was attractive to the Museum, and easy maintenance was another factor due to limited access and the whole 'life cost' of the installation.
"The flexibility of the lighting effects also enables the Museum to tailor a single installation to accommodate changing gallery themes, special exhibits and a variety of corporate events, all of which use the Energy Hall at different times."