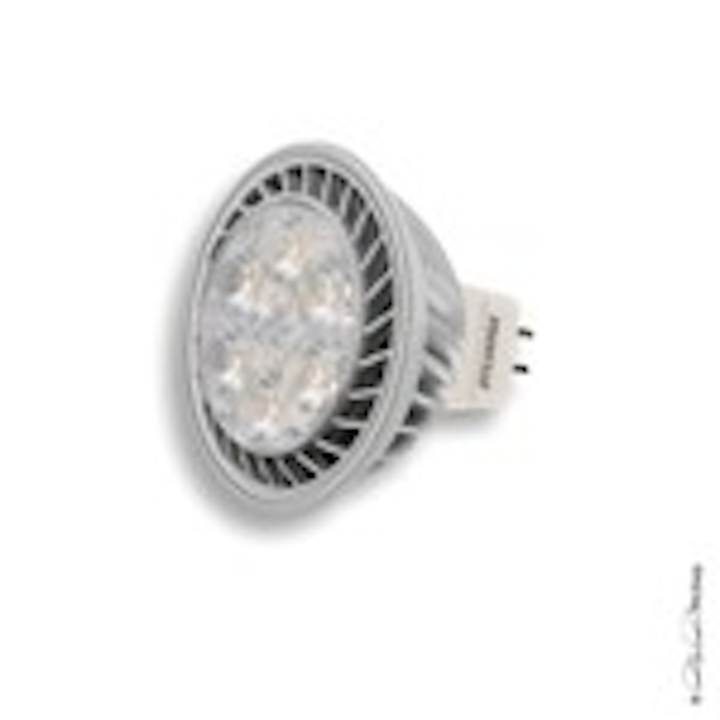 +++++
This article was published in the June 2012 issue of LEDs Magazine.
View the Table of Contents and download the PDF file of the complete June 2012 issue, or view the E-zine version in your browser.
+++++
Of all the retrofit lamp sockets, the MR16 is one of the most ubiquitous, accounting for perhaps one billion sockets around the world. The multifaceted reflector (MR) lamp, very compact in size, is used in retail and hospitality environments, museums and homes, providing everything from narrow spotlights to floodlighting. But halogen MR16s are inefficient.
For this reason, MR16 LED lamps, with their high efficacies and long lifetime offer a very attractive alternative to halogen MR16s, with their low efficacy of 15 lm/W and short lifetime of approximately 1000 hours.
However, the use of MR16 LED lamps in existing sockets is less than straightforward. The user, whether a commercial lighting professional or homeowner, must understand the compatibility issues associated with plugging in an MR16 lamp and its interaction with existing transformers and dimmers. While all Energy Star qualified MR16 LED lamps are provided with a list of compatible dimmers and drivers, from a consumer standpoint, this level of complexity in purchasing a lamp can be limiting.
Moreover, due to its very small form factor, MR16s are subject to thermal management issues, so the LED junction temperature must be kept in an acceptable range to maintain lumen output and color quality, and it must be used in a fixture that allows heat to be dissipated.
"The two greatest challenges in solid-state lighting retrofits today are MR16 and GU-10," said Matt Reynolds, global IC applications manager at Texas Instruments. He is referring to the two forms in which MR16 lamps are offered: with GU-5.3 pins and powered by a transformed low-voltage AC input, or the second powered directly from the AC main voltage (120V in US, 240V in rest of world) through GU-10 pins.
Commercially-available MR16s
This article discusses the low-voltage MR16 LED lamps, the most recent of which have been introduced as replacements for 50W halogen bulbs, and some of which have been certified by Energy Star. LED MR16 lamps are commercially available from companies including GE Lighting, LEDnovation, Lighting Science Group, Osram Sylvania, Philips Lighting and others, with some of the more recent offerings shown in Figs. 1-3. In addition, a start-up company, Soraa, has designed an MR16 lamp based on GaN-on-GaN LEDs and it has told LEDs Magazine that its MR16 LED lamp will be commercially available in 3Q 2012 (see sidebar, p. 42).
MR16 LED lamps are typically supplied with beam angles of 15, 25 or 36° and CCTs of 2700K, 3000K, 3500K or 4000K. "The main limitation has been with thermal management, where we needed to combine high lumen output in a very compact form factor," said Ellen Sizemore, product marketing manager for Osram Sylvania. She added that meeting Energy Star requirements is critical as well so that utility rebates are accessible.
The directional MR16 lamp performance is characterized by its center-beam intensity at its specified beam angle as well as lumen output. Energy Star certification requires ANSI-standard dimensions and base, >40 lm/W efficacy, minimum CRI of 80, R9 greater than 0, 70% maintenance of lumen output after 25,000 hours, and specific values for center-beam intensity based on 25W, 35W and 50W halogen equivalents. In addition, the change of chromaticity from the lamp's specified level over the lumen-maintenance period of 6000 hours must be within 0.007 on the CIE 1976 (u'v') diagram. Additional requirements can be found at the Energy Star website.
A report that tracks the commercial availability and competitive positioning of MR16 LED and other retrofit lamps is available from Strategies Unlimited. The market research firm stated that worldwide revenues from MR16 sales was $259 million in 2011, with 20 million units sold. Most of these units were sold through professional channels for use in the retail and hospitality sectors.
Real 50W-equivalent performance
Over the last several years, many companies have announced LED MR16 lamps, claiming that they perform equivalently to 50W halogen bulbs in center-beam intensity and lumen output. For instance, a 50W halogen equivalent should perform in the 600-lm range with an intensity of 2400 cd at a beam angle of 25°. However, testing by the US Department of Energy (DOE) in the Caliper program has indicated that only in the past year or so have some MR16 LED lamps begun to achieve true 50W-equivalent center-beam intensity measured in center-beam candle power (Fig. 4).
Fit, form, function
According to the ANSI C78.24-2001 specification, the lamp diameter of the MR16 is 16/8-inches or 2 inches (50.7 mm) and the length is also 2 inches (50.5 mm), leaving very limited space for the lamp electronics and optics. In addition to creating drivers that fit in the very small base of the lamp, retrofit-lamp manufacturers must choose an optic or reflector that is sized accordingly. Sizemore stated that from an optics perspective, broader beam angles in the 25 or 36° range are less challenging within the small form factor of the MR16 to design than the narrow-beam angles in the 10 or 15° range.
Mike Bean of Carclo Technical Plastics further elaborated on this point, explaining that physics dictates the correlation between the source size, size of the optic and the emitting beam angle that can be achieved. "For instance, if you have a 5-mm diameter LED source and an appropriate 30-mm-diameter total internal reflection (TIR) optic, you can achieve, for instance, a 20° beam angle. If, on the other hand, you double the source size to 10 mm and still want the beam angle of 20°, you'd have to double the size of your optic to 60 mm, which would exceed the diameter of the lamp." Arrow developed an MR16 reference design last year using off-the-shelf components to demonstrate a multi-vendor, multidisciplinary approach to MR16 design. The design nearly met Energy Star specifications for a
50W-equivalent MR16 lamp
using either TIR optics or reflectors.
Multichip LEDs & TIR optics
Many MR16 LED lamp designs begin with a multi-die LED such as the Cree MT-G, Philips Lumileds Luxeon S or Luminus SSM-80. "With multi-die LEDs, it's much easier to achieve the chromaticity target and high CRI because you can mix and match the slightly different choromaticities of the chips in a single package," Bean said. He added that by having a compact source, the optic can be kept more compact as well. "That way, you can minimize the beam divergence from the source and maximize the center-beam intensity."
Bean stated that for MR16 lamps using such multi-die LEDs, TIR optics work very well over a specific range of beam angles, from around 27° to around 50°. Above 50°, light begins to reflect off the top of the TIR optic and it becomes more suitable to use a reflector instead. Below 27° a larger TIR must be used or a smaller source (LED diameter <5 mm) becomes necessary.
Transformer & dimmer compatibility
Evan O'Sullivan, vice president of engineering at LEDnovation explained the challenge associated with installing LED MR16 retrofits. "Existing transformers were designed for 50W, and some for 75W lamps, not low-wattage LED lamps. There is nothing wrong with the transformer design but they were not created with LED lamps in mind. Companies designing LED MR16 lamps spend a lot of time working with the transformer companies on compatibility testing and LEDnovation, for instance, has created intellectual property in this area. LED MR16s are low-wattage lamps with an integral power supplies and the transformers were designed to drive a resistive lamp with no power supply."
The transformer, whether an older magnetic transformer or newer electronic low-voltage transformer (ELVT), which is really a switching converter circuit, steps down the voltage from line voltage to 12V AC. Because these transformers are installed in lamp housings inside walls and ceilings, LED MR16s must be compatible with the existing transformers, as explained in the recent article, "
Low-voltage LED lamps present unique driver challenge
", which ran in the February 2012 issue of LEDs Magazine. "An existing 50W transformer needs a certain amount of power being pulled through it to be operational, and a 50W-equivalent LED MR16 might only require 8W, and that's not when it's dimming," explained Reynolds. He said this already tenuous issue becomes compounded by the thousands of transformer types and hundreds of dimmers available.
As mentioned, MR16 LED lamp manufacturers that are meeting Energy Star requirements provide transformer and dimmer compatibility information. In addition, transformer makers have also begun to introduce low-load ELVTs, which Reynolds describes as very similar to the transformers that stepped down to 10W levels, but these step down to a 5W range and have been described as LED compatible. "However, they use the same topology, it's still a self-resonating half bridge, but it has a lower minimum load requirement. The issue is that people are still designing for a true retrofit environment, so that a given socket can be compatible with an MR16 LED lamp, but if someone wants to plug in a halogen lamp at a later date, that will still work as well," said Reynolds.
Companies manage compatibility issues using any variety of approaches. "Philips uses a proprietary technology, essentially extra stages in the circuitry, to trick the transformer into thinking it is drawing more current than it is. It's still using 7W on average, but the signal from the transformer loads more while it's drawing," said Andy Mayo of Philips Lighting.
Dimmer or no dimmer?
Whether dimming is required with MR16 lamps really depends on the application. For instance, museum spotlights rarely require dimming, nor do spotlights in a retail environment, whereas restaurant down-lights may. There are certain regional differences in the way retrofit lamps are sold. In Europe and China, for instance, consumers are generally well aware of whether they need to specify dimming or non-dimming products. But in the US, the default, particularly at big-box retailers, has become a preference for dimmable lamps. At least with MR16 lamps, the non-dimmable versions are less complex and costly, but may not be presented as an option. Consumer education regarding dimming, along with the general education that is already being dedicated to LED lamps and luminaires, seems necessary.
Driver electronics
Finally, in most LED retrofit lamp applications, one critical component is a large storage element, the electrolytic capacitor. Some MR16s use an electrolytic capacitor and others do not due to the sheer size. The alternative, a ceramic capacitor, leads to audible noise from the capacitor and potentially soft short, which can lead to fire. "There are many large and small companies trying to solve this problem by using different topologies and different capacitors. Generally, high-end MR16 solutions work better but they are much more expensive. Honestly there's nothing on the market right now that is outstanding, that meets lumen output requirements with most phase dimmers," said Reynolds.
Thermal limitations
As LED technology becomes more efficacious, it will become practical to manufacture smaller multi-die LEDs with higher lumen output. For the time being, due to the small form factor of the MR16, which cannot dissipate greater than 20W of load, operating current for existing chips, such as the MT-G from Cree, must be maintained close to the binning current, or at 1.1A (Fig. 5).
O'Sullivan said that because of the MR16's thermal, electronic and form-factor limitations, it's really better to design the lamp from the ground up. "What we have found using simulation and empirical data is a better way to design the lamps, optimizing everything from the LED out," he said. "We spend a lot of time on the heat sink, not just the outside structure. As a result, LEDnovation is going away from the familiar aluminum high-surface-area finned approach to a completely new design for MR16 and PAR lamps."
Lighting Science Group has also gotten away from a traditional heat-sink. "We do not use run-of-the-mill heat sink material in our MR16 LED lamp," said David Henderson, chief development officer at Lighting Science Group. He added that the company's heat sink is designed to achieve air flow around the LED board.
For years, Philips has taken an alternative approach to thermal management in its MR16 LED lamps by using active cooling with a fan combined with a traditional heat sink. "The cool air at the bulb face is drawn in and across the heat sink, then sent back out through the top of the lamp," said Todd Manigold of Philips Lighting. He explained that the lamp's lifetime rating depends on maintenance of the case temperature below a certain maximum specified level. "With MR16s, as with most of our professional products, we help people design for their application," Manigold said.
Next-generation MR16s
Due to the sheer high-volume demand for MR16 LED lamp replacements, the technology will continue to march at a rapid pace from the LED, electronics, optics and lamp design perspectives. Energy Star certification and DOE Caliper testing has helped users differentiate between higher and lower performing products. However, as Philip's Manigold pointed out, Energy Star is considering dropping its label for MR16 lamps due to the myriad of transformer-compatibility issues that users have encountered. Meanwhile, Energy Star remains an important product differentiator.
"I think the next step will be for companies to produce 50W equivalent MR16s with high-CRI, or CRI above 90," said O'Sullivan. He added that certain applications demand excellent color rendering, such as in museums. Beyond that, O'Sullivan indicated that another next step would be to produce an MR16 LED lamp that meets the performance of a 75W halogen lamp. "In the meantime, people are finding other solutions, such as using a PAR20 or PAR30 LED with a different transformer. They would prefer a one-to-one swap, but the industry just isn't there yet," he said.
In addition, having only recently achieved the target that had eluded the LED industry for so long, the 50W equivalent lamp, most retrofit lamp suppliers are reluctant to put any timeline on that next huge milestone. Instead, resources appear to be focused on improving the quality of MR16s in terms of light quality, consistency, lifetime and compatibility.
Soraa to unveil MR16 lamp based on GaN-on-GaN
Soraa, a startup firm based in Fremont, CA, will introduce a line of MR16 LED lamps in the 3Q of 2012. The LED lamps will be available to commercial but not retail customers. Soraa's MR16s will be available in two color temperatures (2700K and 3000K), consume 12W of power and are offered with beam angles of 10°, 25°or 36°. They have been described as having 50W-halogen equivalent performance. The 3000K Premium lamp (shown) has a center-beam candle power (CBCP) of 2375 cd at 25°.
At Lightfair International in May, Wilem Sillevis Smitt, director of product marketing at Soraa, provided more details about the performance of these MR16 lamps, which are based on gallium nitride on gallium nitride (GaN-on-GaN) LEDs. Most commercially available LEDs use GaN epitaxy on sapphire or silicon carbide substrates. Soraa claims that GaN epitaxy on GaN substrate wafers are a manufacturable method for LEDs.
Smitt gave three reasons why the GaN-on-GaN approach produces better performance in lighting. The LED material has up to a 1000-fold reduction in dislocation density compared with layers grown on sapphire. This means that the GaN-on-GaN LEDs can be operated at a much higher current density (around 250 A/cm2) than other LEDs.
The second reason relates directly to the color spectrum of the company's high CRI (95) lamp. "This spectrum is closer to the blackbody curve," said Smitt. He added that the spectrum is both broader at higher wavelengths than traditional LEDs and the influence of the blue overshoot portion of the spectrum is nullified. He said these spectral characteristics allow improved color rendering, especially of reds.
The third reason relates to the overall beam pattern. MR16 lamps are characterized by center-beam intensity and field, which lighting designers consider as usable lumens. Lumens falling outside the usable area are referred to as spill. A halogen source creates an uneven beam pattern, with approximately 35% wasted lumens projected from the top of the lamp. Smitt claims the MR16 design that Soraa developed creates minimal spill, soft transitions in lumen output and high center-to-edge color consistency.
Soraa was founded by Shuji Nakamura, known for his work in inventing the blue laser and blue LED, Steven DenBaars, founder of Nitres and James Speck of the University of California's Santa Barbara College of Engineering.