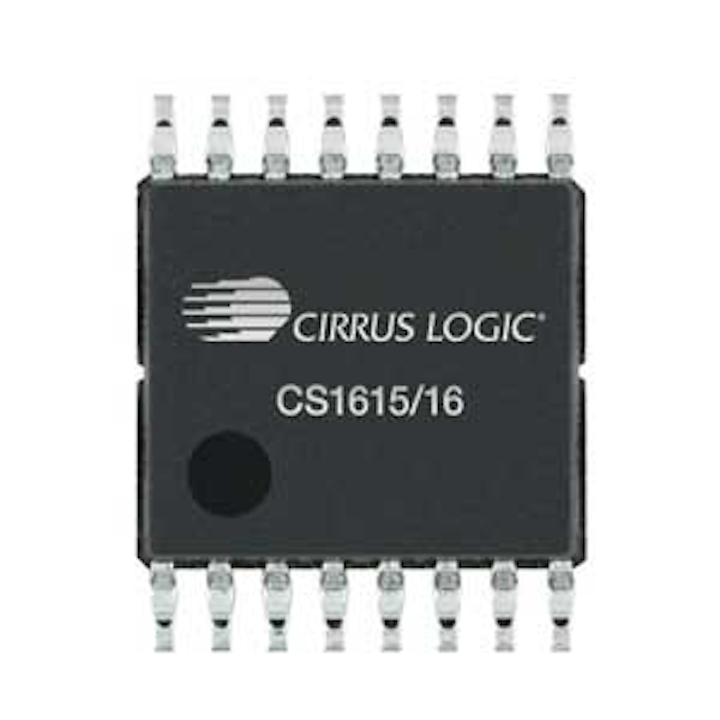 Arguably the driver circuit is as important as the LEDs in terms of how well a solid-state lighting (SSL) system performs. Indeed, whether the application is general lighting, automotive lighting, or some other usage, the driver implementation is responsible for features and characteristics such as dimming, system-level efficiency, and flicker. IC manufacturers have continued to deliver driver ICs that both enable robust LED-based system designs and, via features integrated on chip, reduce the bill of materials in product developments. The ICs are regularly designed for usage in specific applications and with the intent of delivering features and benefits that fit that application. Our collection here shows the diversity of the available ICs, even including a couple of AC-LED driver ICs along with the more traditional products designed for DC driver implementations. — MAURY WRIGHT
88EM8187 deep-dimming driver by Marvell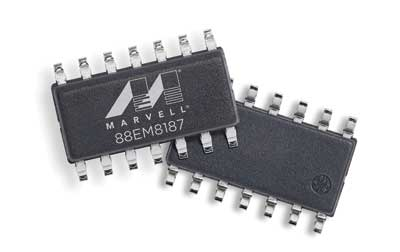 One of the primary goals of many LED driver design is flicker-free dimming of LED light engines, and that is precisely the feature touted by Marvell in the 88EM8187 IC announced early this year. The company asserts that the dimmer can take light output to as low as 1% of full output. Marvell also claims support for a broad array of phase-controlled dimmers and states that it has tested a reference lamp with more than 250 available dimmers. The IC is primarily a digital chip, and dimming functionality is based on digital-signal-processing (DSP) algorithms. The IC matches the dimming algorithm to the dimmer type detected. The company collaborated with controls specialist Lutron to verify the dimming performance of a reference SSL driver circuit.
iW3600 and iW3630 dimmable driver ICs by Dialog Semiconductor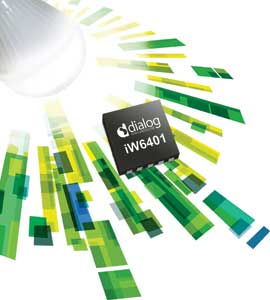 Dimming and specifically dim-to-warm CCT technologies were hot topics at the Light+Building trade fair earlier this year, and the Dialog Semiconductor Power Conversion Business Group (formerly iWatt Inc.) announced both standard and warm dimming ICs at the Frankfurt event. Designed primarily for retrofit lamps, the iW3600 enables what the company calls seamless dimming from 100% down to 1%. Moreover, the single-stage design reduces the bill of materials of the overall driver. Meanwhile, the companion iW3640 design integrates two drive channels so that red or amber LEDs can be used to make the CCT of a retrofit lamp warmer at lower light levels, mimicking the operation of incandescent lamps.
LYTSwitch-2 isolated driver IC by Power Integrations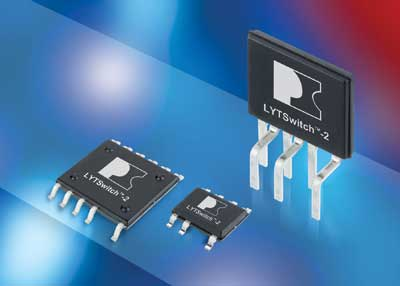 Primary-side regulation, referring to control architectures that are implemented on the primary side of the transformer in an isolated driver design, is known in the power-conversion sector as a way to minimize driver component count and the complexity of the printed-circuit board (PCB) — attributes cited as advantages of the LYTSwitch-2 product by Power Integrations. The isolated approach also allows the LED assembly to be affixed directly to a conductive heat sink for better thermal performance. The company targets applications ranging from retrofit lamps to downlights to tubes with the IC. The architecture supports 1–12W SSL systems.
LT3795 spread-spectrum driver IC from Linear Technology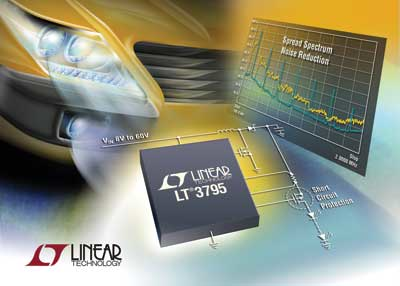 Regulatory requirements covering electromagnetic interference (EMI) in LED-based lighting products remain an issue, especially with the driver circuits often operating at high switching frequencies. Companies such as Linear Technology take different approaches to combat the problem. The LT3795 uses spread-spectrum frequency modulation to spread the EMI over a relatively broad spectral band, thereby reducing the peak energy in any narrow band, and helping SSL products meet industry guidelines. Switching frequency can be set between 100 kHz and 1 MHz. The IC offers pulsewidth-modulation (PWM) dimming with a 3000:1 ratio and can directly support 0–10V controls.
MORE: http://bit.ly/1qVXTc2
CS1615/16 single-stage driver IC by Cirrus Logic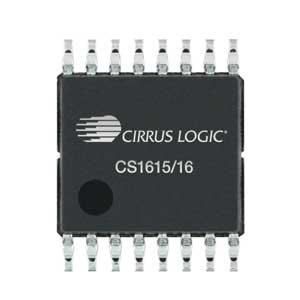 Driver circuits deliver diverse features for solid-state lighting applications (MAGAZINE)
Many DC-LED drivers are dual-stage designs with a power-factor-correction stage first and a constant-current source second in series, but Cirrus Logic and other manufacturers are pursuing single-stage designs especially for the cost-sensitive retrofit lamp market. The single-stage approach reduces the bill of materials, but it makes it more problematic to support legacy phase-controlled dimming and to deliver flicker-free performance. Cirrus Logic utilizes a state-machine-based digital approach to implement the dimming algorithms and said it had tested the driver IC with more than 300 commercial dimmers. The CS1615 works from a 120-VAC line input and the CS1616 works from a 230-VAC line input.
MORE: http://bit.ly/1kHxl0m
TPS92660/40/41 DC-DC driver IC s by Texas Instruments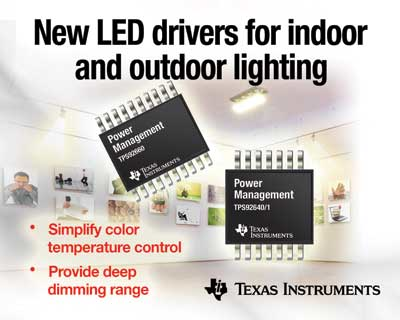 Multichannel LED drivers come into play when a developer either needs to support more LEDs than can be driven on a single channel due to power limitations, or to mix LED colors to achieve a specific white point or color on demand. Texas Instruments (TI) targets such lamp or luminaire designs with the TPS92660 IC that includes a DC/DC buck converter for one channel and a linear channel for a secondary color. Meanwhile, the TPS92640 and TPS92641 ICs are single-channel drivers in the same family that enable dimming ratios of 500:1 and 2500:1, respectively. All of the products support analog or PWM dimming. The entire family of ICs is designed for lamps and luminaires where a microcontroller (MCU) IC might be included and TI offers the MSP430 family for such SSL applications.
MORE: http://bit.ly/1lAqAsf
88EM8803 dual-channel DC/DC IC by Marvell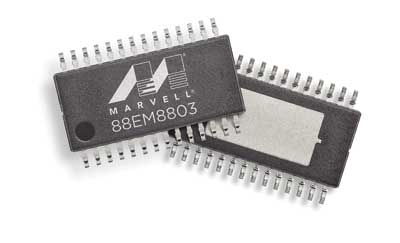 Capable of supporting white-point-tunable lamps or luminaires, the two-channel 88EM8803 driver IC is optimized to power two LED strings. The product is a follow-on upgrade to the widely-used 88EM8801 IC. Drivers that use the chip will need a separate AC/DC converter for lamps or luminaires powered from the line, and the driver IC can handle strings with forward voltage as high as 60V. The color tuning would work by mixing a string of white- or off-white LEDs with a string of red or amber LEDs that can add energy at the warm end of the color spectrum. Moreover, such a design can also allow a lamp or luminaire to achieve high CRI ratings, due to the addition of red energy, and maintain excellent efficacy.
MORE: http://bit.ly/1ofLgdD
A6263 four-channel driver IC for auto interior lighting by Allegro MicroSystems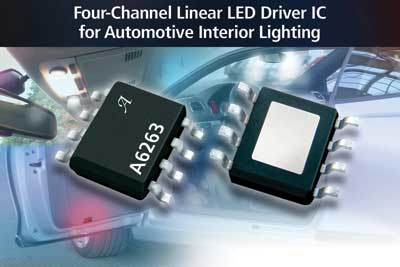 Transitioning to automotive lighting, car interior applications include usages such as map and dome lighting and even lighting designed strictly for ambience, and Allegro Microsystems targets just such applications with the A6263 linear driver IC. The four 100-mA channels allow developers to gang channels together when the need to drive large arrays of LEDs arises, or to use each channel individually for different interior features. A sense resistor sets the current output for each channel and the IC integrates safety features required in automotive applications to recover from faults such as open and shorted LEDs or strings, and over-temperature conditions.
TPS92630 and TPS92602 driver ICs for automotive lighting by TI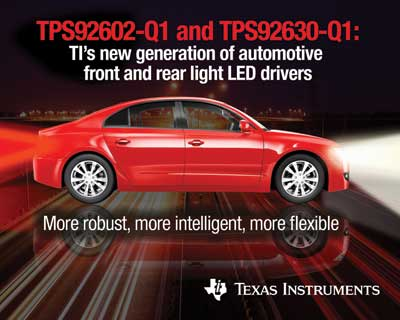 Targeting both rear- and forward-facing exterior automotive lighting in one announcement, TI earlier this year announced the TPS92630 and TPS92602 ICs. LED lighting is growing in popularity for automotive applications because of energy efficiency, long life, and form factor. The TPS92630 IC is intended for rear-facing applications such as turn signals, reverse lights, and brake lights. The IC includes the ability to automatically detect a single LED that fails via a short or closed circuit, allowing for the overall rear-lighting system to continue operating properly, thereby meeting regulatory requirements in many regions. TPS92602 IC is a two-channel switching driver for forward lighting that can support buck, boost, buck-boost, SEPIC (Single Ended Primary Inductance Converter), and flyback converter topologies on a channel-by-channel basis.
MORE: http://bit.ly/1kHCsO7
SmarteXite family and iW6401 driver ICs by Dialog Semiconductor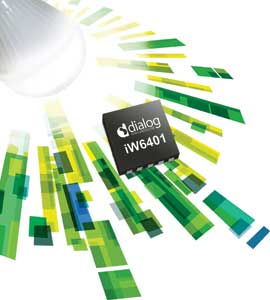 Moving to the area of networks and controls, the driver electronics will be where such capability is integrated in SSL systems, and Dialog Semiconductor is supporting such designs with the SmarteXite family of driver ICs. The focus of the SmarteXite initiative is adding digital interconnects between lamps and/or luminaires and the iW6401 is the first product in the family. The iW6401 supports the Ledotron controls protocol that is being driven by a consortium of European lighting companies. Specifically, the Dialog chip supports the Ledotron IEC 62756-1 dimming protocol that will enable plug-and-play operation with Ledotron-compatible controls such as dimmers. The wired or wireless network support will come via separate MCUs that connect via an I2C serial interface.
MORE: http://bit.ly/1mmzLMR
88EM8189 AC/DC driver IC by Marvell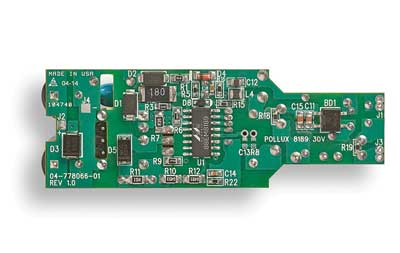 Most driver ICs with dimmable functionality are either designed to respond to phase control of the AC signal as implemented by triac and electronic dimmer switches or to dedicated control input from digital networks or 0–10V inputs. Marvell has integrated both capabilities in the 88EM8189 driver IC. The IC can directly respond to phase control. And the IC can accept digital input over an I2C interface that would connect to a companion MCU in a network-enabled design. The IC also includes an AC/DC converter on chip that could power a companion MCU. Moreover, a reference design (pictured) demonstrates that the MCU and driver functionality can be packaged in a form factor that enables usage even in LED retrofit lamps.
MORE: http://bit.ly/1scCLCV
TPS92411 switch for AC-LED driver circuits by TI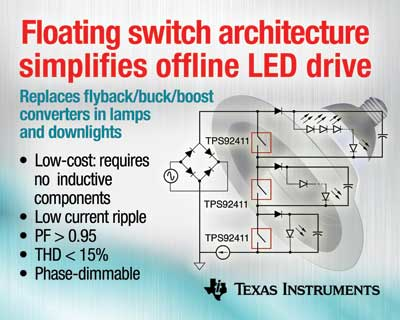 While most LED lighting products today still utilize DC-based drivers, AC-LED technology enables minimal driver implementations (sometimes called driverless) that can be integrated right on the PCB with the LEDs. While the AC-LED technology has been primarily the province of companies making modular light engines, companies such as TI are making the option available to all SSL developers via ICs dedicated to the application. Indeed, the TI TPS92411 ICs can each switch power to a segment of a large LED string that comprises a light engine. The switched approach isolates each of the segments and allows developers to place a capacitor across each segment, thereby getting far better utilization of the LEDs when the AC input is too low to drive most of the string. See our Developer Forum from this issue for yet another approach to AC-LED drive technology.
MORE: http://bit.ly/XEhdlI
Acrich3 AC-LED driver IC by Seoul Semiconductor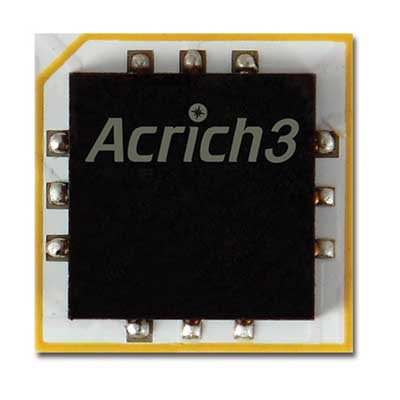 Seoul Semiconductor is one of the long-time proponents of AC-LED technology that has offered numerous light engines based on the technology and more recently began offering ICs to developers. At LightFair International (LFI), the company announced the Acrich3 AC-LED driver IC. The product provides three primary improvements relative to the prior generation Acrich2 IC and two are in the area of dimming. The IC responds more smoothly to legacy triac or phase-controlled dimmers. Indeed, an LFI demonstration showed a light engine that responded smoothly across the scale with no evident sparkling or flicker and a very uniform appearance with the LEDs behind a simple diffuser. Moreover, Acrich3 works much better with 0–10V dimmers, especially at the low end of the dimming range where smooth low-light adjustment is key for lighting designers/specifiers.
MORE: http://bit.ly/1mkOBIi
HV9805 driver IC for LED lamps and tubes by Microchip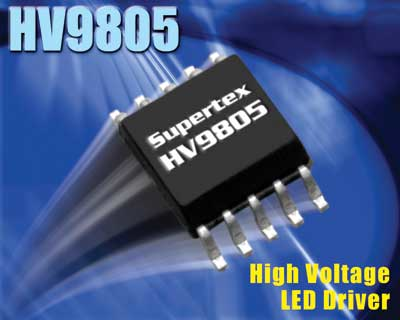 There are many options for implementing the AC/DC and DC-constant-current stages in an LED driver, and Supertex (acquired by Microchip early this year) combines a switching boost converter with a linear current regulator in the HV9805. The design is cost optimized for LED-based retrofit lamps and tubes. Because the second stage is a linear design, it's critical for efficiency that the first stage be tuned to deliver a DC voltage input to the linear stage that is very near the compliance voltage of the LED string. The use of boundary conduction mode in the boost stage allows for flexibility in what Supertex calls headroom voltage.
MORE: http://bit.ly/1orgpG3
iW3623 two-stage AC-DC driver IC by Dialog Semiconductor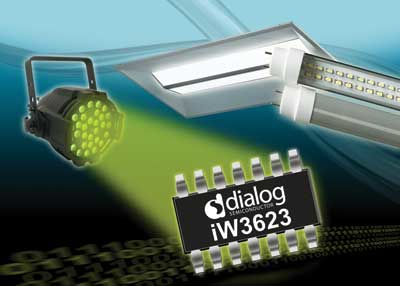 A universal AC input voltage (100 to 277 VAC) will allow the iW3623 driver IC to serve in lamps and luminaires sold around the globe and targeted for residential or commercial lighting applications. Dialog Semiconductor specifically targets applications including downlights, PAR retrofit lamps, LED T8 tubes, and ceiling troffers with the driver IC. The driver IC does not support dimming but is meant to be an economical option that still delivers the low ripple current and less flicker - features that are inherent in many two-stage driver architectures. Moreover, the driver IC features lamp and luminaire protection from over-voltage or over-temperature conditions.
MORE: http://bit.ly/1sgjwVz