SolarOne Solutions improves security with solar-powered lighting systems
Oct 8th, 2004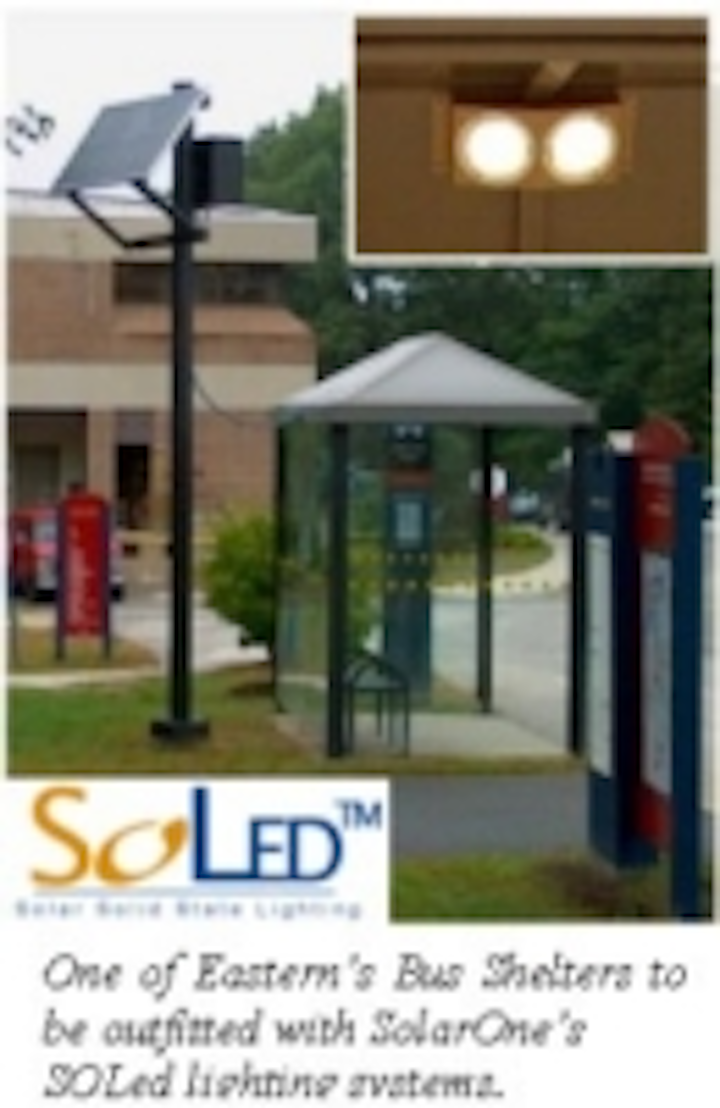 SolarOne Solutions has delivered five grid-independent SoLed™ Bus Shelter Security lighting systems to Eastern Connecticut State University (Willimantic, CT, USA). These systems are believed to be the first of their kind in the country to be installed and operating.
The bus shelter systems consist of a pair of white LED lamps controlled by a special LED lighting controller, an unbreakable solar panel and a sealed long-life battery. The controller provides efficient operation and features to optimize lighting to periods when it is most needed, saving cost and reducing solar panel size.
Solid-state solar lighting systems such as the one installed at Eastern Connecticut State University offer many benefits, such as:
security - lights stay on even when the electric grid goes down
avoids cost and hassles of trenching and electrical hook up - easy to add on a retrofit basis
more targeted lighting, reducing "spillover" (i.e. light pollution)
4 or 5 times longer lifetime than the best fluorescent bulbs
low voltage operation, eliminating the risk of shock hazard
Facility Engineer at Eastern, David Lebel says, "Solar/LED lighting offers some very interesting potential for campuses. With the help of SolarOne's data loggers and support services we will be observing their performance and assessing their appropriateness for other applications on our campuses."
"There is an increasing buzz around advancements in LED lighting, but there are also a number of misperceptions floating around", says SolarOne president Moneer Azzam. "For example LED lights are not actually more efficient than other forms of lighting. However, there are other attributes that make them exciting when combined with a solar source." With the first generation SoLed lights in operation for almost a year in northeastern climates, the company is eyeing much broader geographical markets.
Channing Page, director for new business at SolarOne, says, "if they work well in New England, they will certainly perform virtually anywhere in the continental US and Central America. SolarOne expects to soon add a bus shelter lighting package to its standard line of solar outdoor lighting products.
SolarOne is already experiencing rapidly expanding interest in their lighting systems and related engineering capabilities. For example, the company is in the process of delivering components for 500 neighborhood lighting systems based upon its SoLed solid-state lighting for a private project in the northeastern United States.