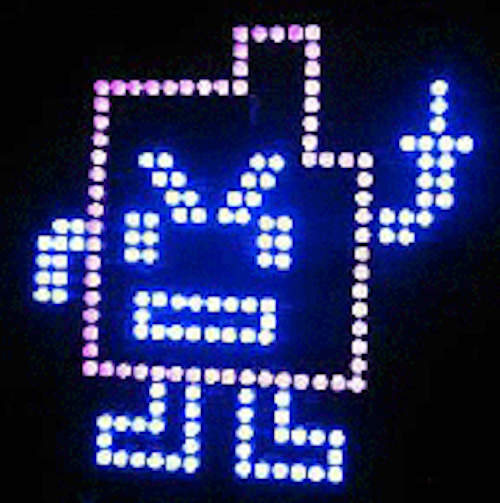 LED Mooninites invade Boston

LED Mooninites invade Boston
LEDs were plastered across the US press last week after causing havoc in Boston, Massachusetts. There is not thought to be any connection with Boston-based Color Kinetics. LED boards depicting "Mooninites", characters from a new show on the Cartoon Network TV channel, were hung around the city as part of a guerilla marketing campaign.
Local and federal authorities closed bridges and roads and called out bomb squads, but eventually realized the "suspect devices" were harmless moon-men. Turner Broadcasting is likely to pay the city several million dollars in compensation. Another successful application for LEDs!
Philips completes PLI acquisition
Royal Philips Electronics has completed its acquisition of Partners in Lighting International (PLI), a European market leader in home luminaires, for approximately EUR 590 million in cash. PLI develops, manufactures and markets a broad portfolio of more than 10,000 distinct home lighting luminaires under brand names such as Massive, TRIO and Lirio, and concepts like Aqua, LED and Cucina.
Together with PLI, Philips will be able to establish a strong presence as an industry shaper in the emerging market for solid state lighting solutions in the home, that will enable consumers to create different lighting atmospheres with energy efficient LEDs (see Philips to acquire home luminaire manufacturer PLI for more information).
Fraen and ROAL demonstrate exterior area lighting
Fraen and ROAL Electronics will be demonstrating a specially designed high-power LED exterior lighting unit at Strategies in Light next week. This reference design, which utilizes a unique array of highly efficient custom Fraen optics, demonstrates that the market demands of exterior lighting applications can now be met using today's technologies.
Cree appoints new sales staff
Cree has appointed four experienced sales executives to its regional US and European sales organization. The new staff are: Giuliano Cassataro, most recently with Tecnika Due srl, who will support southern Europe; Derek Tibbitts, who has worked as European channel manager for Agilent and HP, will support northern Europe.
Vince Feorenzo, most recently director of distribution and channels at Avago Technologies, will support the eastern U.S.; and Jerry Kolansky, who was most recently president of sales for flash memory maker M- Systems and had also been vice president of sales at HP and Agilent, will support the western U.S. and Canada.
CAO Group appoints Avnet as distributor
Optoelectronics manufacturer CAO Group has named the Avnet LightSpeed™ business unit of Avnet Electronics Marketing Americas as its first Authorized Electronics Distributor, including exclusive distribution rights for the new Dynasty™ integrated power LED line.
LightSpeed will distribute the entire CAO Group line of solid state illumination products and system-level solutions. View the company press release.