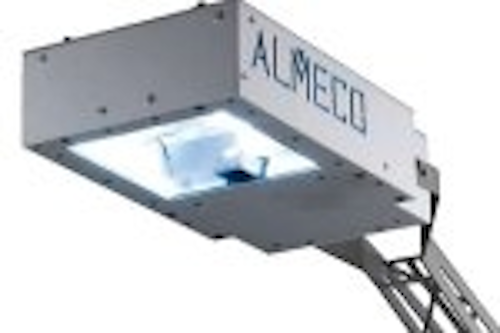 Luminus Devices has taken a unique approach to LEDs for solid-state lighting (SSL) applications by focusing on larger, brighter emitters. Area lighting applications require fewer PhlatLight LEDs compared to other high-brightness LEDs, and companies such as Guth, ABS Lighting, and Almeco Group are leveraging that capability in products such as a single-LED street light from Almeco.
A single Luminus CSM-360 PhlatLight LED has an emitting area that is 36 times larger than a typical 1W LED. The larger LEDs can eliminate the reliance on complex arrays of smaller LEDs and optics, and in fact a single such LED provides the sole light source in the Almeco Vega LED98.
The Vega LED98 combines Almeco's reflector and optics with the PhlatLight LED. Almeco claims a reflectivity of greater than 98% for the reflector and the optic delivers beam patterns compatible with industry standards such as those from IESNA (Illuminating Engineering Society of North America).
About the Almeco luminaire, Luminus President and CEO Keith Ward said, "Beyond product aesthetics and cost savings, the single-source solution increases overall fixture reliability by drastically reducing the number of points of failure. It is a perfect lamp replacement option with a large emitting light source, virtually no glare and has a life expectancy of 60,000 hours, reducing the total cost of ownership for our user partners. Almeco is assisting Luminus' expansion in more outdoor applications with our innovative big chip LEDs."
Underpasses and tunnels
The CSM-360 has also found usage in products designed for roadway underpasses and tunnels. The 60,000-hr rated life is especially important in such applications because of the traffic disruption that occurs when a light must be replaced. Rich Lyons, Vice president and General Manager of ABS Lighting said, "Replacing conventional high-pressure sodium fixtures with long lasting PhlatLight LEDs will provide our customers with a superior fixture that reduces energy consumption as well as the high cost of re-lamping highway lighting fixtures."
ABS Lighting's Roadway product uses three Luminus CSM-360 LEDs and outputs 9000 – 14,5000 lm. ABS hasn't specified a power rating, but the luminaire can serve as a replacement for 250W high-pressure sodium (HPS) fixtures. Luminus specifies that the LEDs deliver more than 100 lm/W so the ABS LED product should use far less power than the HPS alternative.
Luminus has also partnered with Guth, a Philips Group brand, on both indoor and outdoor area-lighting applications. Guth targets municipal installations including roadway, walkway, and parking-area lighting for commercial facilities. Guth is using Luminus' SST-90 LEDs.