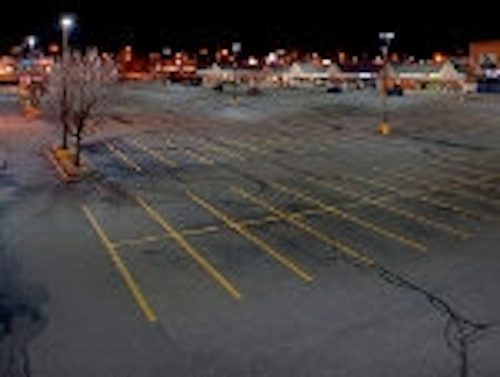 LED-based solid-state lighting (SSL) has proven out as an energy-saving option in a test deployment at a parking lot located at a Manchester, NH shopping plaza anchored by a T.J. Maxx retail store. Part of the US Department of Energy (DOE) Gateway program, the test deployment revealed 58% energy savings attributable to LEDs along with light-output controls triggered by occupancy sensors.
The DOE Gateway demonstration replaced 22 HPS luminaires and 6 metal-halide luminaires with 25 LED luminaires. The new Phase I Gateway report reveals both the 58% savings and estimates a three-year payback on the installation at the New Hampshire location.
According to the report, the savings are "largely attributable" to a 47% reduction in average light levels in the parking lot. The luminaires integrate occupancy sensors that switch the SSL luminaire light output between a low level when cars are not present and a high level when cars are present. The controls and the LEDs delivered the reduction in average light levels while still meeting IES (Illuminating Engineering Society) recommendations for minimum horizontal illuminance.
A part of the Gateway project included a survey of employees that work in the shopping plaza. According to the report, 30 or 32 respondents would "recommend this installation be used elsewhere." The report states that most found the LED lighting superior to the prior lighting.
The report notes that other locations might experience longer payback periods based on electrical and maintenance costs relative to the New Hampshire test site. Based on lower national average costs, some areas might take more than five years to achieve payback. At the test site, electricity rates are $0.14/kWh whereas the national average is $0.104/kWh according to the report.
There will be a Phase II of the New Hampshire Gateway demonstration that focuses on longer-term evaluations. Phase 11 will address issues such as lumen maintenance.
The New Hampshire demonstration used BetaLED The Edge Area Light luminaires. Each luminaire integrates 120 LEDs. The occupancy sensor and high- and low-output control operates on a pole-by-pole basis. At the low setting the luminaires draw 175 mA while at the high level the current goes to 525 mA.
Gateway is a DOE program that's administered by the Pacific Northwest National Laboratory. Earlier this year in a DOE webcast, Bruce Kinzey, Gateway demonstration program manager and senior research engineer at PNNL siad, "Gateway's purpose is to demonstrate new state of the art products in real world applications that meet the three criteria of saving energy, matching or improving illumination, and being cost effective for the user."