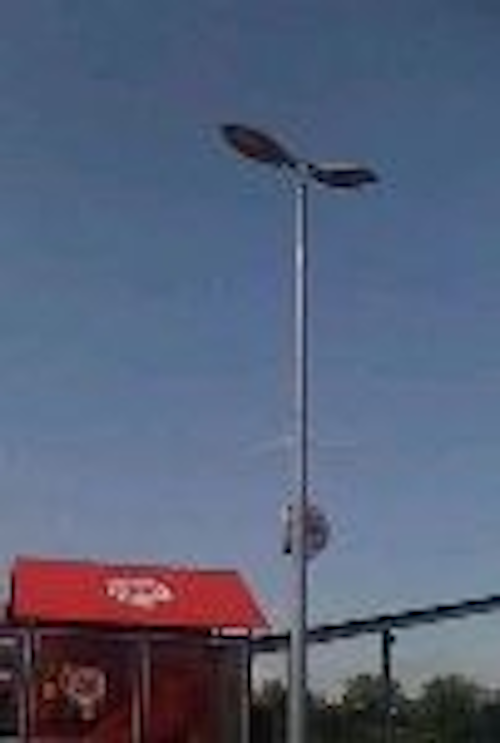 Burger King has equipped its first energy-efficient restaurant, opened in early June in Waghäusel, Germany, with LED lighting from
Everlight Electronics Co.
, Ltd. [TSE:2393].
The new eco-friendly restaurant design adopted by Burger King utilizes state-of the-art technologies, while renewable energy provides one-third of the restaurant's energy consumption.
Lighting plays a key role; long-lasting interior and exterior LED bulbs save more than 55 percent of energy consumption annually compared to traditional lighting methods.
Outdoor
The parking area is illuminated by six 60W SL-Dolphin street lights in neutral white with Phoenix lighting pattern (see chart) featuring a luminous flux of ca. 6000 lm and a color temperature of 5000 K. The asymmetric wide-view angle ensures high uniformity at pole heights of 6-8m and therefore is ideally suited for parking and roadway applications, says Everlight.
Existing Everlight SL-Dolphin lights are now being shipped with a patented electronic ballast—developed and produced—in Germany that has various dimming options, a life span up to eight times compared to other LED street light solutions or conventional street lights, a high-temperature protection mechanism and an efficiency of 93 percent.
Indoor
The restaurant's guest area is equipped with red interior lights in Italian design using Everlight's A-Lamp replacement LED lamp as the light source. This implementation, realized by German company E2, features a high uniformity of illumination due to the A-Lamp's glare-free light distribution.
The eight LEDs cannot be seen from the outside, resulting in a pleasant lighting effect resembling that of a frosted light bulb. The A-Lamp's power consumption of 7.5 W is more than 50 percent less than the 18W of an energy-saving lamp with a comparable luminance.