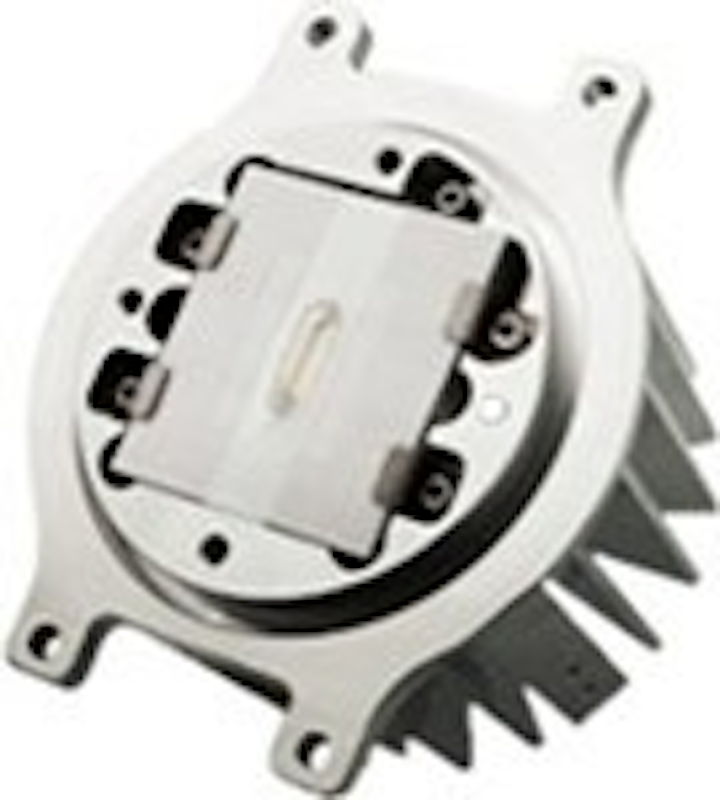 LED-based solid-state lighting (SSL) continues to lead the way in new street-light deployments including in newly announced projects in Saipan, Seattle, and Nebraska City. But Luxim has claimed a huge win in Scottsburg, Indiana for its Light Emitting Plasma (LEP) technology that it believes is superior to LEDs in replacing 400W metal-halide or high-pressure-sodium (HPS) street lights.
Luxim and Scottsburg are embarking on an outdoor illumination project in which 600 LEP-based street lights will be deployed across the city. Moreover, the deal includes a local job-creation angle as a local company called Stray Light Optical Technologies is designing and will manufacture the LEP-based luminaires – creating 50 local jobs.
Scottsburg mayor William Graham led an effort to evaluate several alternatives to the city's exiting lights including LED options. The city chose LEP based on its "brighter output, exceptional color quality, greater energy savings, and long life." The city projects $70,000 in annual energy savings – in part due to the fact that the LEP lights can be dimmed down to 20% of full brightness. Moreover the lights are rated for a 50,000-hour life.
As described in LEDs Magazine articles from earlier this year, Luxim and Stray Light Optical had partnered to demonstrate the LEP technology. Stray Light Optical announced its STA-41 LEP street light engine based on Luxim's LiFi-branded technology at the California Lighting Technology Center's February open house. Later at the Light+Building show, Luxim announced several LEP street-light luminaire partners.
Surely you have to wonder how the jobs package factored into the selection, but Stray Light Optical is adamant that the LEP choice was the best option. "When we looked for the best light source for this project, LEP was the standout. Beyond the usual benefits we expect, Luxim's product also offers integrated motion control and power line networking, which further reduces energy consumption," said CEO Gerald Rea. "We're keenly aware that this project represents a substantial investment by the city of Scottsburg. By partnering with Luxim, we exceeded the rigorous specs and provided a compelling solution."
But Luxim CEO Tony McGettigan did mention the jobs saying, "This is a great example of local government and small business working together to reduce energy costs, create jobs and improve the local environment."
New LED street light projects
The move to LED street lights, meanwhile, is happening globally in municipalities large and small. For example, the island of Saipan in the Mariana Islands is installing 1200 LED street lights according to the Saipan Tribune. Saipan is a US Commonwealth and the new lights will be funded in part by the American Recovery and Reinvestment Act.
The New Streetlights website reports that Nebraska City, Nebraska has received more than $66,000 from the US Department of Energy's EECBG (Energy Efficiency and Conservation Block Grant) program for new street lights. The funds will enable a pilot project to replace 50 HPS cobra-head street lights and 44 decorative HPS fixtures with LED luminaires.
In street-light purchasing news, Seattle, Washington will buy 1000 LED street lights from Leotek according to DigiTimes. Seattle is among the leaders in deploying LED technology. Leotek has supplied products for a number of major LED street-light deployments including the Los Angeles, California project.