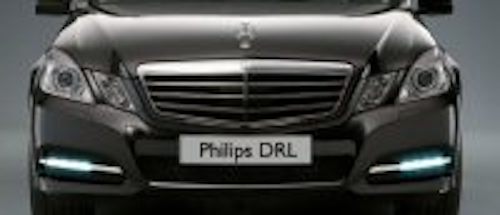 Daimler AG has adopted Luxeon Rebel LEDs for use in the daytime running light (DRL) function on several vehicle models within its fleet, beginning in June 2010 with Mercedes-Benz E-Class models. Daimler intends to expand the use of Rebel LEDs for the DRL function in other models as well.
"We have chosen Philips Lumileds as our partner for the next generation LED DRLs not only due to the product supremacy in lumen output, quality of light and thermal stability, but due to the entirely trustful cooperation between the engineering teams on both sides." said Uwe Kostanzer, head of exterior lighting department, Mercedes-Benz car group.
Klemens Brunner, VP Global Business Unit Automotive LEDs at Philips Lumileds, said that the supply agreement could further accelerate the penetration of LEDs into vehicles.
"This is another important step in our mission to bring long lasting, energy efficient and environmentally friendly solid-state lighting solutions to the automotive industry," he said.
Expanded production
Philips Lumileds continues to increase its capacity to produce LEDs. Aixtron AG, a Germany-based supplier of MOCVD growth systems, announced that in the second quarter Philips Lumileds placed a repeat order for multiple AIX 2800G4 HT systems, which will be used in the production of Luxeon power LEDs.
The MOCVD systems will be shipped within the next 2-3 quarters and will be installed in Lumileds' production facility in San Jose, California.
Mike Pugh, Chief Procurement Officer of Philips Lumileds, said, "We have carefully selected the Aixtron systems for our continuing capacity-expansion program. As we are committed to meeting the needs of the illumination, automotive, and consumer electronics industries, the new Aixtron reactors are an important part of that program."
Lumileds recently announced that it shipped its billionth Luxeon LED in the second quarter of 2010, and that it had shipped 750 million LEDs in the past two years.