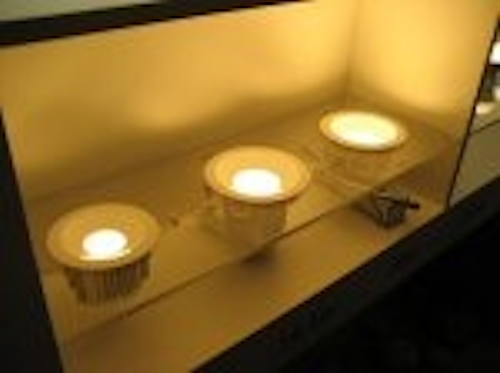 Toshiba Corporation and Toshiba Lighting & Technology Corporation, a Toshiba group company, today marked the end of production of general-use incandescent bulbs, a product which Toshiba was first to manufacture in Japan and that it has produced for 120 years.
Toshiba decided to focus on environmentally-friendly lighting in 2008, and since then has been advancing a transition to new lighting products, particularly LED lighting.
The company will participate for the first time at Light+Building this year (see press release), and says that it is "taking its new lighting system business to the global level," building on sales in Japan of light bulbs, down lights, base lights and street lights.
By concentrating on cutting-edge LED products, Toshiba's new lighting system business aims to reach sales of 350 billion yen (about $3.9 billion) by FY2015.
The end of general-use incandescent bulb production comes a year ahead of the original plan, and marks the end for a total of 103 products. Toshiba says this should bring down CO2 emissions by 430,000 tons a year against the benchmark year of 2008, when Toshiba manufactured some 20 million units a year.
In 1890, Ichisuke Fujioka, one of the leading engineers at the time, established Hakunetsu-sha & Co., Ltd., one of the companies that eventually merged in Toshiba, as Japan's first manufacturer of incandescent lamp bulbs. From an initial production of only 10 bulbs a day, production climbed to a peak of 78 million a year, and cumulative shipments to date add up to 4.07 billion bulbs.
Toshiba developed the world's first ball-type fluorescent lamp in 1980, and subsequently developed smaller, more power-efficient products with longer life, with the result that the production volume of general incandescent lamps has been declining since around 2000. In 2007, Toshiba introduced LED lamps for general use.