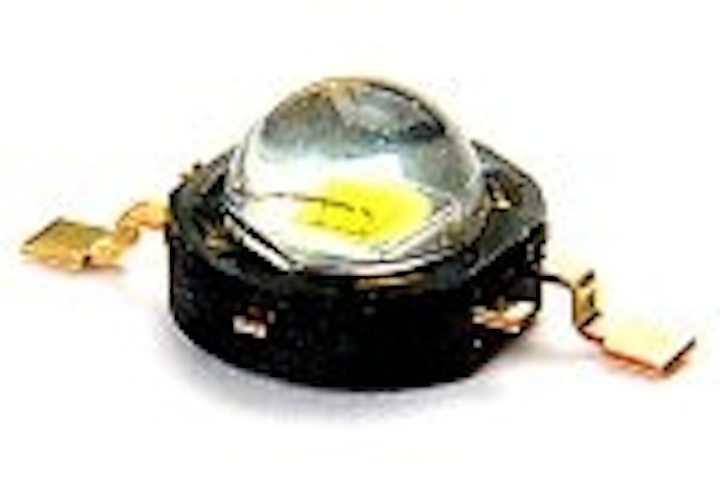 LED manufacturer Seoul Semiconductor (SSC) has a launched a new power LED product, the P4, which has unprecedented values of efficacy and luminous flux.
Containing a single die, the P4 emits 240 lm at a drive current of 1 A. Further, the device has the industry's highest luminous efficacy of 100 lm/W when operated at 350 mA.
Both Nichia and Cree have reported efficacy values in excess of 130 lm/W, but these values were for white LEDs based on small-size chips and driven at 20 mA.
SSC has ambitious plans to improve the luminous efficacy of the P4 up to 135 lm/W by 2007, and to 145 lm/W by the first quarter of 2008.
"P4 is making history in the lighting industry as the alternative to conventional fluorescent and incandescent lighting sources," said Jung Hoon Lee, CEO of Seoul Semiconductor. The efficacy values for SSC's single-chip, power LED make it a brighter and potentially more cost-effective light source compared with conventional 70 lm/W fluorescent and 15 lm/W incandescent lighting options.
"Conventional LEDs have been known to emit more than 100 lumens with several dies," continued Lee. "Seoul Semiconductor's P4 is the only LED product in the world with 240 lm via a single die."
Six-chip and four-chip lensed versions of the Osram Ostar produce 420 and 280 lm, respectively, in both cases at 700 mA. Cree's new XLamp LED, announced in October, is a single-chip package delivering up to 160 lm when driven at 700 mA. Typical values for the LEDs in volume production are 80 lm and 70 lm/W at 350 mA. The Luxeon K2 from Philips Lumileds, also a single-chip package, delivers 140 lm at 1500 mA (24 lm/W) and 100 lm at 700 mA (40 lm/W).
SSC does not manufacture chips, and is a customer of Cree (see Cree, Seoul sign LED chip supply and IP agreements). SSC says that its own patented phosphor and packaging technologies give P4 the highest luminous flux and the superior reliability characteristics needed to meet customer thermal management requirements.
Two different types of P4 products are available, one with 80 lm @ 350 mA (typical) and the other with 100 lm @ 350 mA (typical).
The new LED is designed for operation in a wide variety of lighting applications and industries including automotive, torches, LCD TV monitor back lights, projectors, home appliances, traffic signals, mobile phone flashes, street lights, decorative and architectural lightings, and general illumination.