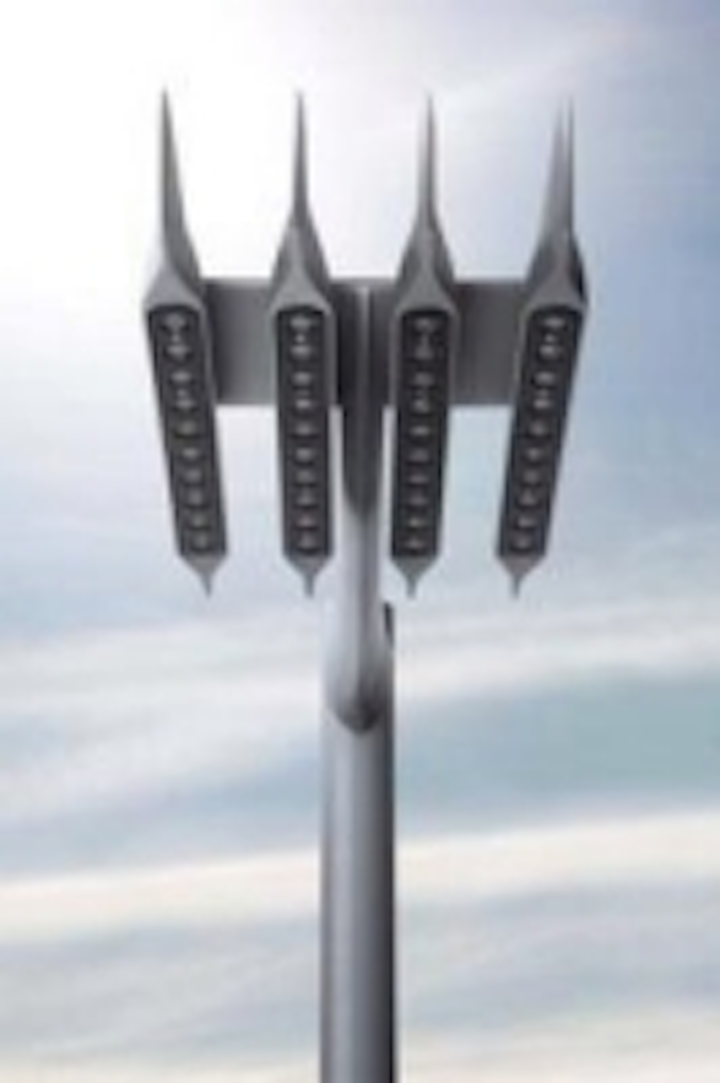 We keep hearing that LEDs free lighting manufacturers to adopt all new form in products, and Cree certainly went that route with the new Aeroblades family of luminaires, developed in partnership with lighting designer Speirs + Major. The visually-striking design is also functional in terms of good thermal properties, support for different light-distribution patterns, and modularity for different lumen-output options.
We're challenging traditional fixture design," said Christopher Ruud, Cree Lighting vice president and general manager. "Aeroblades can only be an LED-based fixture."
"While everybody else was creating standard shoeboxes and other conventional designs, we were approached with a revolutionary technology that allowed us to throw out all preconceptions of how urban luminaires should appear," said Keith Bradshaw, director, Speirs + Major. "The result is the Aeroblades luminaire, designed for the best LED performance and the form followed."
To control the beam pattern, the luminaire design relies on the total internal reflection (TIR) lens optics called NanoOptic that Ruud Lighting developed for the BetaLED brand prior to being acquired by Cree. Each of the blades has 10 LEDs, and each has a NanoOptic. The design can support more than 20 optical distribution or beam patterns.
Modular configuration options
The Aeroblades concept can support configurations with two, four, or six blades. Cree will offer more than 300 combinations. The luminaire can be mounted in a traditional manner for street and area lighting, or according to Ruud with the blades sideways and mounted on a wall for some security applications.
The blade design was meant to add aesthetic value, but it also adds thermal mass that helps cool the LEDs. Ruud says that the cooling enables Cree to drive the LEDs in Aerobaldes with 1A of current, whereas a similar optical module used in the existing LEDway SLM luminaire can only be driven at 750 mA.
The option of a higher drive current means that Cree can offer a range of lumen-output packages based both on the number of blades in a luminaire and the specified drive current. Higher current may impact the life of the fixture to some extent. But as Cree explained in a recent LEDs Magazine feature article, the latest LEDs can reliably tolerate the high current and provide access to what has been unused lumen capacity.
The new design also introduces some changes in how the driver is implemented in a pole-mounted light. The blades do not afford room for a typical driver. Cree will offer versions designed for the driver to be mounted in the base of the pole. Ruud said that putting a driver in the pole base is common in many European installations, and offers the option of servicing the driver without a bucket truck.
For traditional installations that would normally locate the driver in the luminaire, Cree will supply drivers that mount in the extension arm that connects the luminaire to the pole. Ruud said Cree expects to sell large volumes of both versions.