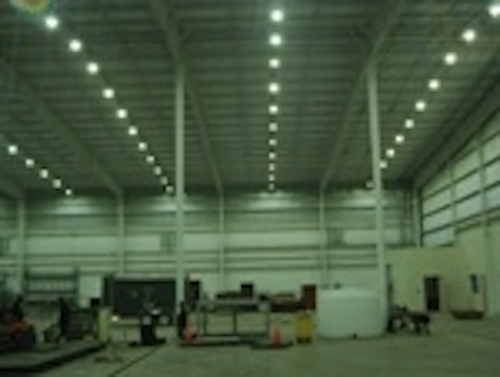 LED North America, an incubator facility for the Department of Energy's Oak Ridge National Laboratory (ORNL) in Oak Ridge, TN, has completed a large-scale commercial lighting project using LEDs throughout the headquarters facility of Outpost Solar in Pulaski, TN, a maker of solar-energy systems. The project was made possible with an Innovation Grant from the Tennessee Solar Institute.
Wilson Stevenson, president of Outpost Solar, said, "We are very pleased with the light quality of our new building. We believe we are the first commercial industrial building in the TVA [Tennessee Valley Authority] footprint to be completely illuminated using LED lighting."
Outpost Solar's 40,000-square-foot manufacturing area uses 180 Manhattan high-bay luminaires, which deliver 7926 lm while consuming 84W for an efficacy of 96 lm/W. The building's exterior, security and parking lot use 14 LED cobrahead luminaires to save an estimated $20,000 over the life of the fixtures. Both the high-bay luminaires and cobraheads are supplied with a 10-year warranty.
The high-bay luminaires and cobrahead street lights utilize a graphite-foam technology licensed exclusively by LED North America from ORNL to passively cool the LEDs and ensure the lights operate at cooler temperatures. The graphite foam features high thermal conductivity, low weight and a skeletal structure full of air pockets. A network of ligaments in the foam wicks heat away from the LEDs.
The LED lighting in the 4000-square-foot office area consists of 72 ceiling-mount fixtures, each with four 18W LED tubes, and supplied with a 5 year warranty. Energy consumption is estimated to be 55 percent less than that associated with traditional fluorescent lighting.
Andrew Wilhelm, President of LED North America, said, "Any company that is serious about managing their energy costs has to consider LEDs. LED lighting is truly the low-hanging fruit when it comes to controlling energy expenditures."
Andy Geshwiler, LED North America's marketing and sales vice president added, "LED lighting makes great economic and environmental sense. Our LED fixtures will improve the light quality of the work environment for your employees and enhance safety and productivity while at the same time reduces energy bills and maintenance expenses."