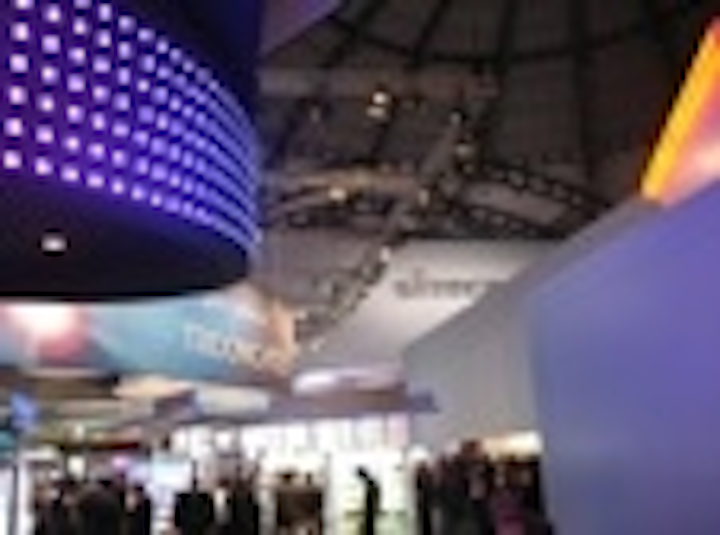 The fifth Light+Building tradeshow in Frankfurt am Main, Germany took place last week (April 6-11) and, in addition to myself, attracted a massive 164,999 visitors. Most of these people seemed to be crammed into the Zumtobel booth on Tuesday, when the company threw a (free) drinks party. Overall visitor numbers were up 22% compared with 2006, when the show was one day shorter. Around 40% of visitors were from outside Germany, and there were 2173 exhibitors.
Try as we might, the
LEDs Magazine
team was not able to visit all these exhibitors, not even all the ones with a strong focus on LEDs. So if we missed you, we apologize, and we'd be very grateful if you would send any relevant news or information to
twhitaker@pennwell.com
. We'll be compiling a major review of Light+Building for our May/June issue, so we need the information by the end of April. Equally, if you attended L+B and have any strong opinions about what you saw – general comments, or specific technologies or products - please tell us.
A major theme, particularly among the largest exhibitors, was energy efficiency and environmentally friendly technology. Importantly, major lighting companies such as Philips and Osram highlighted the benefits of LED technology but also promoted their latest steps forward in other technologies (sample headline: "Philips introduces world's most energy-efficient halogen lamps for the home").
Incidentally, to give a sense of scale of L+B for anyone who attended the Strategies in Light (SIL) event in February, the entire exhibit floor at SIL would have sat comfortably in the space occupied by Philips. This was a big event.
The organizers issued a post-event press release in which they said; "Exhibitors in the lighting segment presented a huge variety of energy-saving lighting solutions together with the necessary control systems. And, at the same time, they cleverly combined design with technology. LED lighting was to be seen at almost every exhibition stand."
This is a slight exaggeration, and it's also worth pointing out that some manufacturers seemed to be showing LED fixtures just for the sake of having an LED fixture on their stand, rather than because they had made any commitment to the technology. One Hall showcased outdoor lighting, and there were a number of manufacturers with very high quality LED fixtures such as Advanced LEDs, LEDworx, Ruud Lighting and Schréder. But there were several other manufacturers that had a range of luminaires, mostly based on other light sources, with LED luminaires thrown in almost as an after-thought.
But this should not detract too much from what was, for LEDs in general, a great event; as well as new and interesting technologies there were many, many examples of LEDs used in real, practical, high-quality fixtures. As LED maker Cree told LEDs Magazine, in 2006 their focus was to show people that high-performance LEDs were available. This time around, they exhibited lighting fixtures from their customers, to demonstrate what is being done with LEDs, right now.
**********
What did you think were the highlights of Light+Building 2008? Send your comments to twhitaker@pennwell.com, for inclusion in our May/June issue.