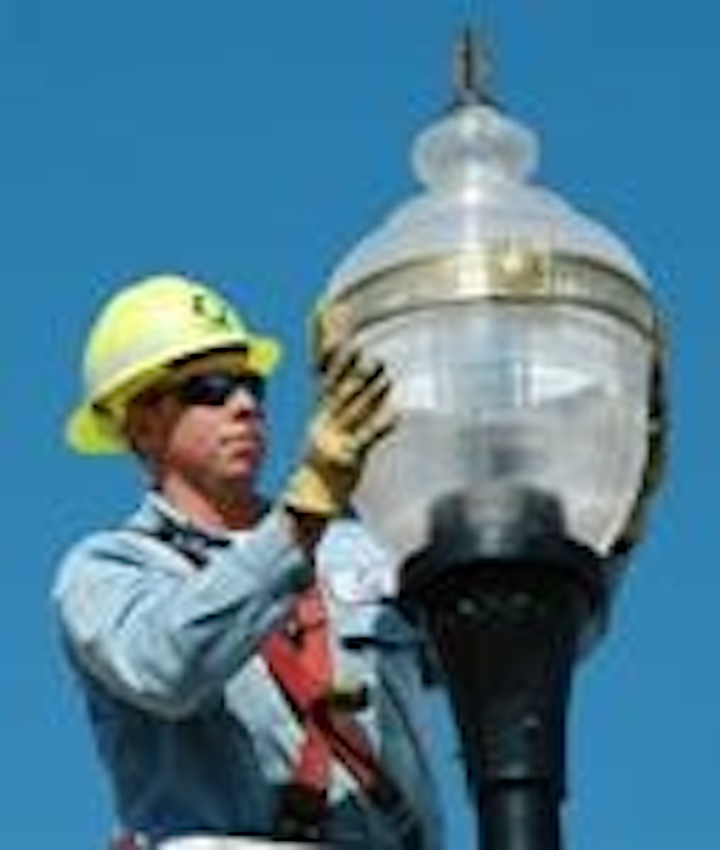 Bryan, Ohio is realizing 30% to 35% in energy savings – 5% to 10% better than projected – after installing a mix of LED-based cobrahead and post-top luminaires in place of high-pressure-sodium (HPS) lights. Baltimore, Maryland hopes to start a transition to LED-based solid-state lighting (SSL) for its 70,000 street lights, but the local utility is blocking such a move using safety concerns as a reason whereas a local newspaper suspects revenue from maintenance services is the actual motivation.
In Bryan, the city sought replacements for 150W HPS fixtures. The city selected a mix of 80W Cooper Streetworks OVH LED Cobraheads and 70W CLB Generation LED Decorative Post Top Luminaires. Cooper won the business to replace 329 of the 1400 total lights that the city plans to upgrade. The selection process included four vendors competing to deliver products with a 4000K color temperature.
"Many of our existing streetlights were Cooper Lighting fixtures and we believe that Cooper is an industry leader in testing and warranties of LEDs, so we were confident that we could rely on the company to provide superior luminaires to meet our goals in lighting and energy savings," said Steve Casebere of Bryan Municipal Utilities. "The transition to LED street lights comes from a long history of lighting Bryan's streets with the best fixtures of the time."
The Bryan project is being funded in part by a $540,000 matching grant through the American Recovery and Reinvestment Act of 2009. The mix of cobrahead and post-top fixtures provides improved roadway lighting while delivering the city's desired aesthetic ambiance in some areas, according to Cooper.
Still the project would only make sense if it delivered the energy savings that were originally projected at 25% to 30%, but the new installation has proven to be even better. "As an electric power utility, we wanted to reduce our carbon footprint and light pollution. Cooper's LED products helped us achieve those goals as the products are Dark Sky compliant and use less energy," continued Casebere. "Ultimately, this helped us deliver on our business goal of keeping energy rates low since using less power means we purchase less power. Most importantly, we are able to keep customer rates stable."
Baltimore clashes with BGE
While Bryan enjoyed support from its municipal utility in an LED project, many cities aren't so lucky as we have covered in several recent outdoor lighting articles. Recently a New Jersey city and cities in Colorado and Montana have clashed with utilities over SSL projects. Now Baltimore Gas & Electric (BGE) is fighting an LED project in Maryland.
According to an article in The Baltimore Sun, BGE is using a safety issue as a reason to block a transition that Baltimore wants to make that could eventually save the city $7 million per year with LEDs. The utility claims that the retrofit would only be safe if the utility were to install circuit breakers upstream from the lights and the cost of the circuit breakers would counter any savings from the transition to LEDs.
Ironically, city and utility workers have to service the existing street lights without the ability to remove power via a circuit breaker. The newspaper suggests that BGE simply doesn't want to lose the revenue from maintenance that it performs on the legacy lights, earning $12 million per year.
A consultant has suggested that Baltimore could reduce energy use by 40% if it installed LEDs on its 70,000 street lights. After the initial article on the Baltimore clash ran, the author posted, in a blog, a letter from a public works director in the area asserting the ability to safely work on BGE-powered lights. Stay tuned.