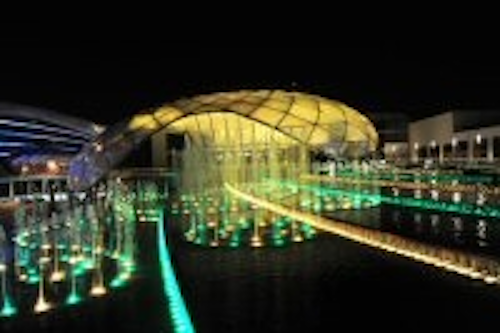 Aquatic Design & Engineering, an aquatic architecture firm, supported by water-feature specialist Crystal, has created one of the world's largest customized water features at the Yas Island Welcome Pavilion in Abu Dhabi.
The water feature covers 8268 m2 and makes extensive use of LED ring-lights manufactured by Crystal. Unlike the previous generation of submersible LED lights, these ring lights have a number of LED light sources in a circle around a central opening that contains the water jet.
The water feature serves as the gateway to
Ferrari World
, billed as "the biggest covered entertainment city on the planet." The choreographed dancing fountain is located in pools on either side of the entrance.
Yas Island in Abu Dhabi is also home to the iconic Yas Hotel which sits astride the Grand Prix circuit, and which is illuminated with an exterior LED mesh supplied by Cooper Lighting and Enfis, and controlled by a system from e:cue lighting control.
Outside Ferrari World, thousands of LED lights and nozzles (2,100 Crystal LED lights, 750 nozzles and 91 custom Crystal CheoreoSwitches) were installed in geometric patterns symbolizing a racetrack to create unique choreographed sequences of water and light.
The water feature has a calm, passive daytime mode, utilizing only 10% of power. Throughout the evening, the fountain builds every 30 minutes, dazzling visitors when every light and nozzle is running. In addition, the fountain can be reprogrammed at any time to produce customized sequences of water and light.
LED ring lights
At the center of the display are a number of LED ring lights manufactured by Crystal. By combining the light sources and the water-jet nozzle into one fixture, the ring lights provide increased space and flexibility for the water-feature design. They also allow the water jet to be uniformly illuminated from all sides, up to a height of 40 feet. The 2.25-inch diameter center hole accommodates many types of nozzle, and the stainless-steel construction is extremely durable.
Crystal first introduced submersible LED lights for water features just over five years ago, and has since then worked to make the product increasingly flexible and the illumination ever more powerful.
The 12V, 30W fixtures contain 6 groups of LEDs, with one red, one green and one blue LED in each group for a total of 18 LEDs. According to Crystal's George Ayer, the version in the picture uses Nichia LEDs, but the company is in the process of switching over to Luxeon LEDs from Philips.
Several styles of optics are available, ranging from spot to wide flood, and also including elliptical for special orders. "These allow the light to be shaped appropriately for the needs of the water effect," says Ayer. "Typically we will use a narrow (12-degree) spot for vertical jets, a wide flood for broad foamy effects, and ellipticals for wall washing."
The flow of water through the center of the LED ring-light "helps a great deal" with thermal management, says Ayer. "That said, our Ring Light products are listed to be able to maintain their temperature when operated dry, with no water." Not surprisingly, the fixtures are IP68 rated.
With the use of an external DMX controller, the LED 160 series lights can be dimmed or turned on/off individually to create dynamic animated light sequences. The LED driver and control device are built onto the LED board, as opposed to the control panel, which allows "unlimited" programming flexibility. The LED lights operate as part of an overall system that requires power, data and DMX controller, with Crystal's LEDQUE1 DMX controller operating the entire range of Crystal's LED lights.
The LEDQUE1 is a compact device that stores and plays pre-programmed light shows. It includes a removable 256Mb SD card for data storage and two DMX ports that can control two full DMX512 universes for a total of 340 individually-addressed LED lights.