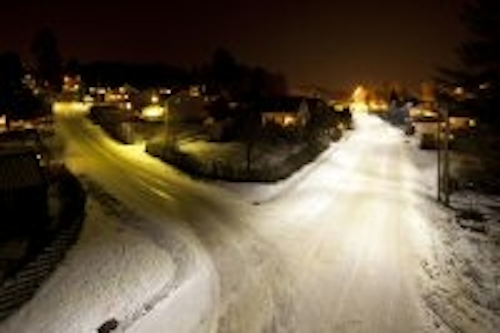 LED Roadway Lighting Ltd. (LRL), an LED street-light manufacturer based in Halifax, Nova Scotia, Canada, has announced a major project in Norway. Involving the municipalities of Asker, Bærum, Lier and Røyken, the project will include the supply of approximately 15,000 Satellite Series fixtures, and will take place over a two-year period.
The project is described by LRL as "the largest investment in LED street lighting in Norway to date." The company's Satellite fixtures will replace existing mercury-vapor technology, and energy savings of up to 70% are expected.
An earlier installation took place in Asker in 2010 (see photo). At present, LRL products have been installed in more than 30 Norwegian municipalities.
LRL's local representative Catena AS (www.catena.no) and Solar Norge AS (www.solarnorge.no) have entered into an agreement with the municipalities, which includes logistics, warehousing, technical support and supply of luminaires.
LED Roadway Lighting Ltd. recently acquired Streetlight Intelligence (SLQ), a supplier of wireless, adaptive-control technology for use with street lights based on LEDs and other light sources.