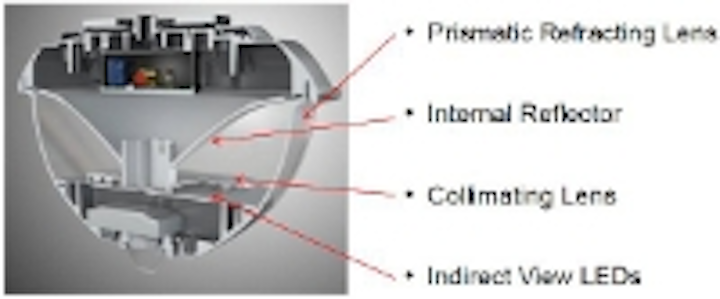 We are seeing more and more innovation in form factor and functionality in solid-state lighting products as lighting manufacturers better understand how to leverage LED sources. Cree, for example, combined LEDs in an indirect fashion with a complex optical design to deliver a new parking-garage fixture that delivers uniform light. Peerless has announced a 4-inch cylindrical fixture that includes an optic that provides continuous smooth lighting and can produce direct or indirect illumination or both. GE Lighting, meanwhile, added a lower-cost planar model to its Lumination family that is lit from the rear.
Unique garage light
LED-based garage lights are a relatively special case in outdoor solid-state lighting (SSL) products. Mounting heights for luminaires in garages are typically in the 9–12-ft range. That makes pedestrians and drivers especially sensitive to high-angle glare as optical designs attempt to throw light significant distances to limit the number of fixtures required in a project. Conversely, street and area lights mounted on higher poles also throw light for long distances but the glare is less of a problem at ground level.
Cree product portfolio manager Greg Dixon said that the team working on the new VG Series was directed to eliminate glare while producing a relatively small and lightweight fixture that was easily installed and affordable. The company says the payback relative to metal halide (MH) lights is less than two years based on the national average of $0.11/kWh for electricity cost.
The optical design is very interesting. The LEDs produce indirect light through collimating lenses shone into a reflecting chamber. A prismatic refracting lens plays the role of diffuser. The result according to Cree is perfectly uniform beam distribution with no glare. Moreover, the 12.5-lb fixture can be installed by one worker in ten minutes based on a prototype installation. See the longer story on our Illumination in Focus website for more details.
Cylindrical indoor SSL
In the indoor space, Peerless lighting has added a sleek cylindrical linear fixture called the Round 4. As the name implies, the fixture is basically a 4-inch diameter cylinder. Lighting designers can cascade the 4- and 8-ft fixtures into longer runs and even in rectangular configurations.
The design is especially impressive when it comes to the optics. The fixtures produce continuous uniform light along the length of a run including in joints between fixtures connected in straight or right-angle configurations. Moreover, models can produce direct light down to a task plane, indirect light off the ceiling or wall, or both. We have a longer store on Illumination in Focus that describe the broad set of options in networks and adaptive controls offered for the family.
Planar lighting
GE Lighting, meanwhile, is rounding out its offering in the planar lighting space with an entry-level recessed LED troffer in the Lumination BT series. For the most part, GE has relied on edge-lit light guides that it calls Intrinsx in planar products. Intrinsx is based on light-guide technology that the company licensed from Rambus.
The new Lumination BT series relies on a more traditional approach placing LEDs behind a planar diffuser. The result is a thicker 3.5-inch fixture. But GE said that the BT Series is affordable as a one-for-one replacement for fluorescent troffers. We have more details over on Illumination in Focus at the above link.
The innovative form follows a trend we covered this year at the Lightfair International (LFI) show back in April. See the link at right for our LFI 2013 report.