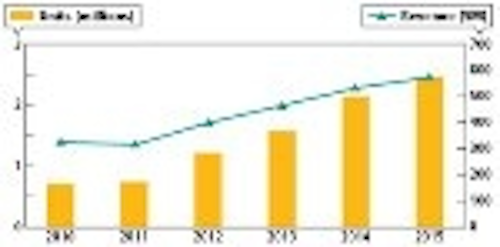 +++++
This article was published in the September 2011 issue of LEDs Magazine.
View the Table of Contents and download the PDF file of the complete September 2011 issue.
+++++
Revenues in the street- and area-lighting market are expected to grow at a compound annual growth rate (CAGR) of 12% between 2010 and 2015, according to a new report entitled "LED Outdoor Area and Street Lighting: Market Analysis and Forecast." LEDs Magazine spoke with Vrinda Bhandarkar, the report's author and Director of Research for LED Lighting at Strategies Unlimited (San Jose, CA), a unit of PennWell Corporation, who has been tracking the street- and area-lighting market since 2006. Bhandarkar discussed recent developments and pointed to a temporary market standstill in China due to quality issues, great momentum in Europe and the US, and misconceptions about the role of stimulus packages.
LEDs Magazine: How large is the street- and area-lighting market?
Vrinda Bandarkar:
In 2010, it was a $327-million market, which is not huge, but street lights are sort of a gateway technology. When street lights become feasible, the markets for area lights, parking-lot lights, flood lights, wall packs, billboard lights and other lighting applications become available to LEDs.
What markets are included in that number?
That includes worldwide capital spending on street lights and tunnel lights; plus area lights, which includes parking-lot lights, canopy lights, flood lights and wall packs. This is a worldwide estimate of the market size, primarily made up of the US, Europe and China. Markets in other countries at this time are quite small.
What kind of growth do you expect going forward?
We are looking at a CAGR for unit growth of 28% from 2010 to 2015. However, because LED luminaire pricing will continue to depreciate, the revenue growth will be lower, at around 12% (see Chart). The slowdown in China is reflected in a temporary setback for the market in 2011.
What has been the role of stimulus packages, such as the American Recovery and Reinvestment Act of 2009?
The large installations, such as the one that happened in Anchorage, Alaska, and the one that's currently happening in Los Angeles, were not implemented because of stimulus money. They happened because the cities wanted to reduce their operating costs – both the energy used and the maintenance cost of the street lights. These cities did use some stimulus funding, but more funding was provided through grants and financing through other channels such as environmental groups.
But there are so many cities trying LEDs and those are potentially going to result in full-scale installations very soon. I think that was the role of the stimulus – it exposed city officials to this energy-efficient technology. Many people tend to get comfortable with the status quo, but when you are given money and asked to do something with it that will result in energy savings, you take advantage of something like solid-state lighting. Then, when everyone sees the results, there is strong motivation to want to implement LED lighting throughout the city or municipality. I don't think this would have happened otherwise.
And what's going to determine whether these pilot programs go to full-scale implementation, aside from solid performance from the pilot run?
The biggest hurdle for these cities is raising the capital, especially in this difficult economic environment.
Are there other benefits beyond the savings?
Yes, uniformity of light and fewer dark spots. But beyond those qualities, I don't think we can underestimate the value of the political point it makes.
In your press release, you say the US market has taken the lead in proving the viability of LED technology for outdoor lighting applications. Can you elaborate?
Yes, the US put an early emphasis on street-lighting quality. Through several programs, such as the Department of Energy's Municipal Solid State Street Lighting Consortium and the DesignLights Consortium, a great deal of effort was made to educate the consumers – meaning the cities – on LED technology, the energy efficiency it can provide, lumen depreciation, and other issues. The DesignLights' qualified-products list alone gives users a good starting point for selecting luminaires.
What about China?
What happened in China was very different. The local governments encouraged the installation of LED-based street lighting and several programs were implemented. However, instead of getting the expected energy savings, there were many cases of premature luminaire failure. As a result, this year China put their street-lighting projects on hold. They realized the need for standards to ensure the quality of every luminaire that is installed.
What will happen next?
Once China implements some standards, and they may borrow from the existing international standards, the market will ramp back up. The top 10-15 suppliers of street lights will begin bidding for projects again, but that may not happen for another year.
Where do you see the greatest opportunities in this market?
The biggest opportunity exists where old technology is in place – starting with mercury vapor lamps, to fluorescent and incandescent lamps – these are no-brainer applications right now because they pay for themselves in energy savings alone.
Linear fluorescent tubes are common in many parking lots. The fluorescent tubes need to be changed out every year and a half to two years. With exposure to heat, cold and vibration, these fixtures do not perform to their maximum efficiency. They represent another obvious area.
In area lighting, people are also going after high-pressure sodium lights. LEDs offer superior light quality, directionality and the user can reduce lumens and increase uniformity of light, which is the biggest plus for LEDs.
Where do you see maintenance being the biggest factor?
For tunnel lighting, it's critical. When a tunnel needs to be shut down or partially shut down due to luminaire change-outs, the effect on traffic is very disruptive.
What do you see as the next step for lighting-fixture design in this market?
The luminaire designers, especially in Europe, have gotten very creative artistically. When it comes to shop owners and upscale malls, the buyer will be more swayed by the attractiveness of the luminaire and the security the light provides. This is a different value proposition than when luminaires are being sold to a city based mostly on energy efficiency. I think we will see innovative, interesting luminaire designs going forward.