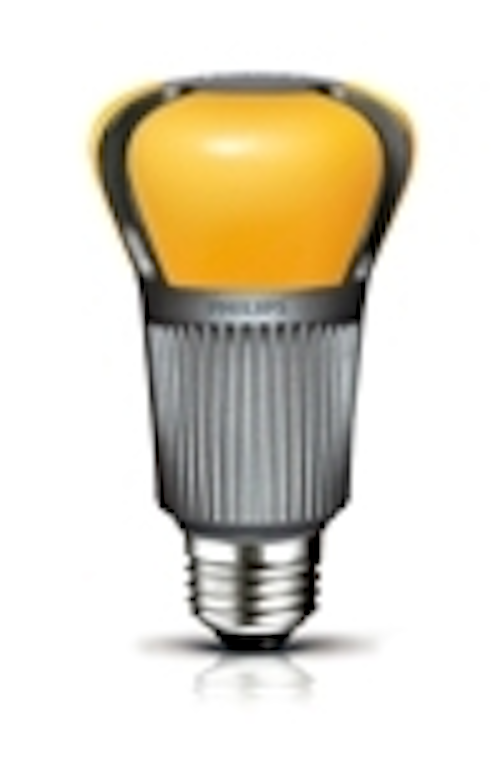 +++ Cover +++
The Primopiano projector from iGuzzini, designed by Renzo Piano, exemplifies the sophisticated approach to LED lighting seen at the Light+Building tradeshow.

+++ Features +++
News
LED retrofit lamp selection grows at LFI
At Lightfair International this year, LED retrofit lamps were all the rage. Companies already offering LED retrofit lamps were joined by several large companies, including Sharp and Toshiba.
SHOW REPORT: LIGHT+BUILDING
Light+Building showcases sophisticated LEDs
With more than 180,000 visitors, no-one can deny the status of Light+Building, held this year in mid-April in Frankfurt, Germany, as one of the world's pre-eminent tradeshows for the lighting industry. TIM WHITAKER reports.
RELIABILITY
Navigating uncharted waters: new challenges in specifying LED luminaire lifetime
Understanding and quantifying the behavior of a single LED, and calculating how this will affect a system with multiple LEDs, are crucial if lighting companies are to set their system warranty level correctly and assess the cost of failures potentially occurring within the warranty period, writes FRANCOIS MIRAND.
FOCUS ON
Outdoor Lighting
New outdoor projects and studies dominate this month's Focus On feature.
LIGHTING: PLANAR SOURCES
Efficient LED planar lighting begins at the light source
LED planar lighting is a new product category that uses LED technology to create large, flat surfaces of uniform light in a highly efficient way, writes ITAI COHEN.
REPLACEMENT LAMPS
LED-based T8 replacement tubes struggle as fluorescent replacements
Early LED replacements for 4-ft, linear fluorescent T8 tubes don't deliver sufficient light output to make them cost-effective SSL retrofits, but the products will get better along with LED improvements says MAURY WRIGHT.


DESIGN FORUM
A three-stage power supply efficiently drives multiple LED strings
A PFC stage, an inverted constant-current buck regulator, and a downstream DC/DC transformer circuit can drive LEDs with better than 90% efficiency says JAMES ALIBERTI.
LED MANUFACTURING
Bringing down the cost of high volume LED production
Collaborative efforts and government-funded research projects are targeting significant improvements in LED manufacturing costs, writes PAULA DOE.
LAST WORD
Recessed LED accent lighting offers powerful potential for interior spaces
Advances in the design of LED-based accent lighting fixtures could open up a largely untapped market, explains AL NEAR, senior VP of sales and marketing with USAI.


+++ Columns/departments +++

COMMENTARY
Vegas' brightest lights shined at Lightfair

NEWS + VIEWS

LFI presents Innovation Awards
Philips and Future extend LED partnership
Cree luminaire breaks 100 lm/W, extends warranty
LED retrofit lamp selection grows at LFI
FUNDING + PROGRAMS

EPA releases draft Energy Star requirements for Luminaires
DOE updates L Prize progress
PRODUCT FOCUS

++++++