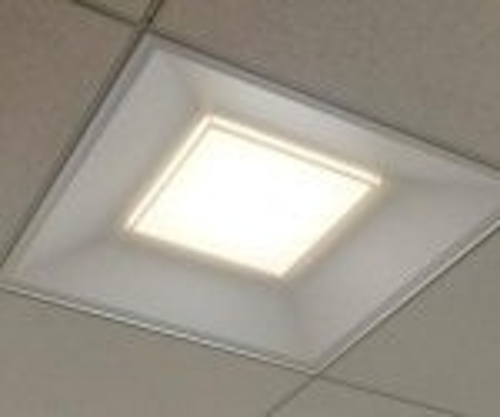 At Lightfair, Cree unveiled a new
LED-based troffer, the LR24HE
, which delivers more than 100 lm/W fixture efficacy. Cree says this is "the first indoor fixture known to deliver this level of performance."
The troffer delivers 3200 lumens at 3500 K with a 90 CRI. It is designed to last at least 50,000 hours. It is, says Cree, 30 percent more efficient than the best 2-foot-by-2-foot fluorescent troffers and 15 percent more efficient than the best 2-foot-by-4-foot fluorescent troffers.
The LR24HE is planned for commercial availability in late summer. It will offer Cree's new five year warranty (see below). Cree also said that it will be reducing the price of its award-winning LR24 LED troffer by 15 percent to reduce upfront cost and accelerate market uptake.
Cree offers 5-Year warranty for LED fixtures
Cree has revealed that it is extending the warranty on its entire family of fixture products to five years – see press release. This includes CR6, LR4 and LR6 recessed downlights and the LR24 architectural LED troffer, all of which are installed in restaurants, offices and commercial spaces across the United States.
"We have almost 20,000 hours of real-world data on products from our early installations nearly three years ago, and the performance is rock solid," said Ty Mitchell, Cree VP and general manager, LED Lighting. "Lengthening the warranty lets our customers know that Cree stands behind the long-term performance and reliability of our fixtures."
Directional lamps
Cree is launching several retrofit directional lamps. A new high-performance BR30 retrofit lamp, the LBR-30, is planned for availability later this summer and will deliver 600 lumens with flood or wide flood distributions, while only consuming 11 watts.
Cree is also increasing the performance of its LRP-38 LED lamps so that it can replace 75-watt incandescent lamps while consuming 85 percent less energy. Lumen output has increased from 500 lumens to 600 lumens, while input power has been decreased from 12 W to 11 W.
The new LRP38-1000L will deliver 1000 lumens of directional light, while consuming only 16 watts. Availability of this new PAR lamp, in both spot and flood distributions, is expected in fall 2010.