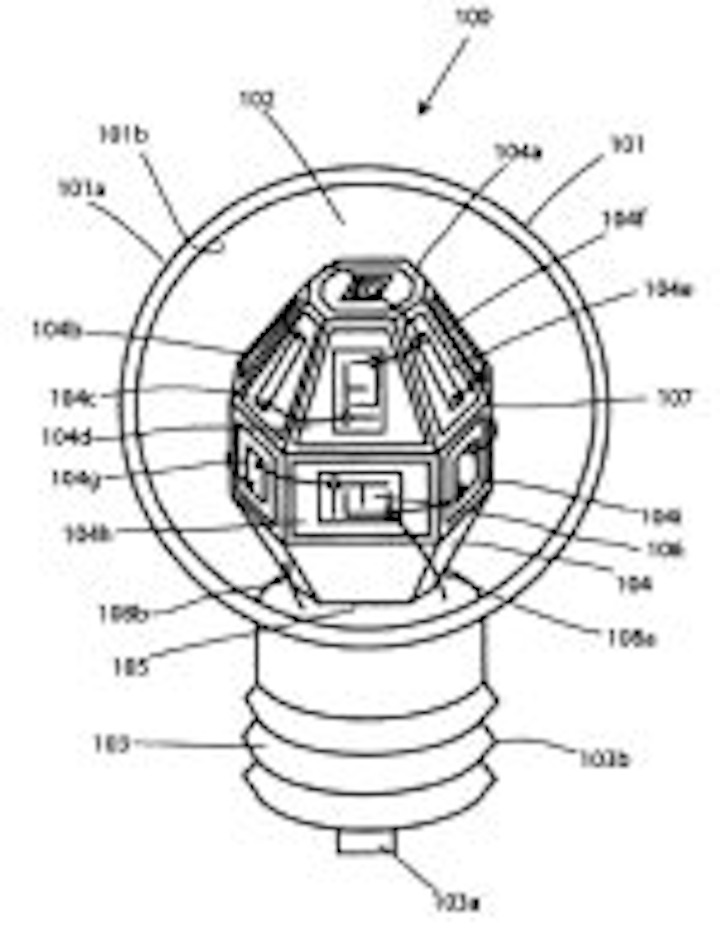 LED lighting manufacturer CAO Group has introduced a 3-dimensional packaged LED product targeted at general, ambient, interior, and exterior types of lighting applications.
Making use of patented technology that combines multiple high brightness (HB) LED chips into an extremely compact package, the Dynasty™ Integrated Power LED provides a high lumen output, and a broad projection pattern, in a flexible design that requires no secondary heat sink.
The Dynasty series offers higher performance than other power LEDs by implementing an innovative 3-dimensional lead frame design that allows the use of standard HB-LED chips which have higher efficiency and produce less heat. One benefit of this approach is to eliminate the internal silicone buffer layer that is required for heat management in typical power-chip packages (e.g. the Luxeon from Lumileds).
With smaller chips distributed across a 3-dimensional lead frame, heat is significantly easier to manage, says CAO, enabling an increase in lm/W output as well as allowing the use of optically-optimized epoxy to directly encase the entire assembly.
"Our patented 3-dimensional lead frame approach enables a unique combination of proprietary phosphors and optics that really get the most light out of these devices," said CAO Group president, Densen Cao. "We're typically seeing 60 lm/W with a range from 50-70 lm/W performance in production for white with a color temperature range from 5000K to 7000K."
The design also allows optical flexibility, and generates a broad 360° horizontal by 270° vertical Butterfly-Beam™ pattern suitable for a wide variety of general lighting applications.
Initially targeted at low wattage accent and interior lighting applications, the Dynasty line is suitable for use in roles currently served by S-11, candelabra, MR-11, MR-16, and many other types of incandescent bulbs.
In addition to conventional surface or through-hole mounting options, Dynasty is also available in a twist-in package, and this could have a particular advantage for LCD backlight applications where the ability to replace a single lighting element can be a significant product maintenance enhancement.
Covered by US patents 6,465,961, and 6,746,885 and other pending US patents, the Dynasty Integrated Power LED is available for sampling now in white, red, yellow, green, cyan, and blue with volume release in Q3 of 2006.
The CAO Group, Inc. has facilities in the US and China and designs, integrates, and manufactures innovative medical, dental, forensic and optoelectronic products, including components and solutions for solid-state signage and solid-state lighting.