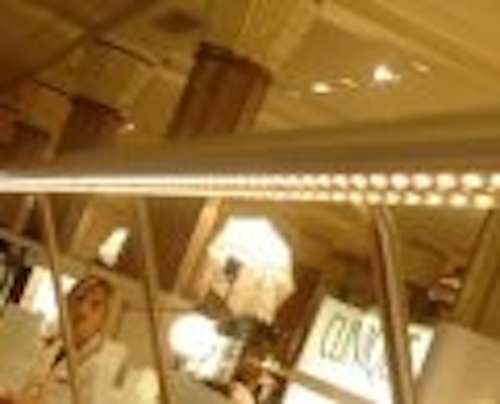 There has been, and continues to be, a legitimate concern from merchandisers regarding the quality and brightness of white LEDs, for indoor retail applications. The issues include color rendering index (CRI), consistency, longevity and light depreciation.
With these concerns in mind, MAG-LED developed the EOS Linear fixture, providing lighting designers with a uniformed and consistent light distribution, and delivering an adequate CRI for true color rendition. With its thermally stable and sleek housing, the EOS linear can be utilized in a variety of lighting applications, including ceilings, counters, coves, and wall washing.
An order for the EOS has already been submitted by a prestige cosmetics company to illuminate their treatment and color decks nationwide.
The EOS Linear debuted at Clinique's cosmetic counter in Macy's in Herald Square, New York City in early September 2005. The LED light fitting allows customers to evaluate make-up under warm-white light conditions, without the accompanying heat that traditional light sources generate.
The EOS Linear warm-white LED rail has been specified for all new Clinique counters in 2006. MAG-LED says that the EOS will not meet the demands of everyone in the lighting industry, but it is a clear step in the right direction.
Project details
Clinique wanted an impactful, low-profile, warm-white light source to illuminate both their color and treatment "decks" for the grand opening of their new counter in Macy's. Herald Square, NYC that was occurring in less than six weeks.
In order to complement the look and feel of the counter design, the rail housing could be no greater then 1.5 inches in diameter, and had to have a smooth chromed exterior surface. The rails also had to be able to be touched without causing a burn, since they would be located in high traffic areas.
The decks are an essential aspect of the cosmetics counter, being where customers sample and test Cliniques' cosmetic and skincare products. It is crucial that the lighting of these decks renders a warm incandescent-like white to simulate indoor lighting so that the customers get an accurate impression of how the products look on them.
With the ever-improving light output, efficiency, and quality of white LEDs, MAG-LED suggested to Clinique that this could be a viable option. The suggestion met with a typical reaction: "White LEDs aren't bright enough and have less then desirable CRI."
MAG-LED provided Clinique with multiple arrays incorporating the best white LEDs (in the target warm-white bin range) from all the major manufacturers. After 6 hours of sampling, Clinique found an LED array that was acceptable for their demanding needs. Once Clinique chose the best LED and emitter density, MAG-LED began to develop the housing and mounting aspects of the unit.
Working closely with the Clinique counter designers, MAG-LED designed and finalized the EOS Linear warm-white LED rail light in less than two weeks, leaving four weeks for the tooling and production of extrusions, mounting arms, LED boards, final assembly, testing and shipping.