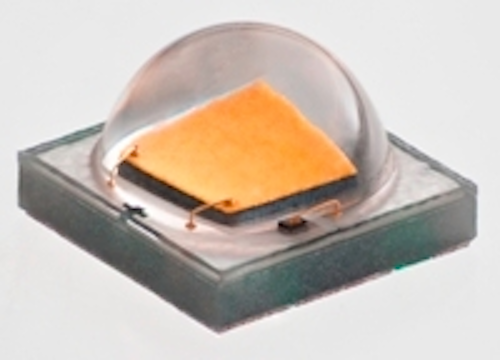 Solid-state lighting (SSL) product developers have used the Cree XP-G in a wide variety of products ranging from street lights to flashlights, and now have the brighter more-efficient XLamp XP-G2 family that can drop into those designs. The XP-G2 is compatible with optics and reflectors designed for the prior family, yet is manufactured using Cree's third-generation silicon-carbide-based platform that it has branded SC3.
The benefits of the new products are easily summarized. Cree product marketing manager Paul Scheidt said, "It's 20% more lumens and lumens per watt." SSL manufacturers can substitute the new LEDs and get brighter products. Or, they can perform minor redesigns and reduce the number of LEDs required to produce equivalent lumen output.
"We have many designs using Cree's XLamp XP-G LED," said William Weiss, partner and director of technology at MSi Solid State Lighting. "The new XP-G2 allows us to take full advantage of the benefits of Cree's latest technology without any significant design changes, improving time to market."
Simpler Energy Star
Being a successor to the XP-G family, the new family does bring benefits in terms of LM-80 testing as well. The XP-G2 requires only 3000 hours of LM-80 data to meet Energy Star requirements, and that will also speed time to market.
In addition to updated specs, Cree made some other important changes. The XP-G2 is being specified both at 25°C and hot 85°C operating temperatures in terms of lumen and color output. In cool white at 350 mA of current, the XP-G2 delivers efficacy of 151 lm/W at 85°C and 165 lm/W at 25°C.
At the hot temperature, the family can deliver 139 lm in cool white and 114 lm in warm white, both at 350 mA. Currents up to 1.5A are supported and Cree will offer a broad range of CCT and CRI options.
Cree offered several examples of how the new family might be applied. A flashlight based on XP-G LEDs that delivered 320 lm could produce 385 lm with the same beam pattern using XP-G2 LEDs.
Brighter or cheaper?
Still, the SSL product makers will have to determine whether they use the new product to increase light output or to reduce power and cost. Cree's Scheidt used an existing XP-G-based PAR38 retrofit lamp as an example. The 7-LED design produces 925 lm at 59 lm/W with XP-G LEDs. Cree substituted XP-G2 components and measured 1270 lm at 79 lm/W. In Energy Star parlance, the former would be an 88W equivalent while the latter would be a 112W equivalent based on the Center Beam Candle Power (CBCP) tool available on the Energy Star website.
The brighter design mentioned above could be realized with little change or, according to Scheidt, the lamp maker could go from 7 LEDs to 3 and realize a product that delivers 969 lm at 62 lm/W and 90W equivalence. The drive current would need to be ramped to do so, but efficacy remains essentially unchanged. In such a redesign, the product developer could use the same individual total internal reflection (TIR) lenses developed for the earlier XP-G LEDs, although some mechanical and perhaps optical changes would be necessary.
Of course it's fair to ask how Cree positions the 3.45×3.45-mm XP-G2 LEDs relative to other similarly sized LEDs based on the SC3 platform. Scheidt said that the XT-E family at 3.45×3.45 mm and the XB-D family at 2.45×2.45 mm are still Cree's primary offering for maximizing lumens per dollar. Both were announced earlier this year.
With the XP-G2, Scheidt said the goal was to "make SC3 available in a form factor that's compatible with our older products." Apparently, the XT-E isn't compatible with existing XP-G optics due to some changes in the XT-E's chip structure and package that maximize light extraction. XP-G2 brings the main benefits of the latest platform with optic compatibility.