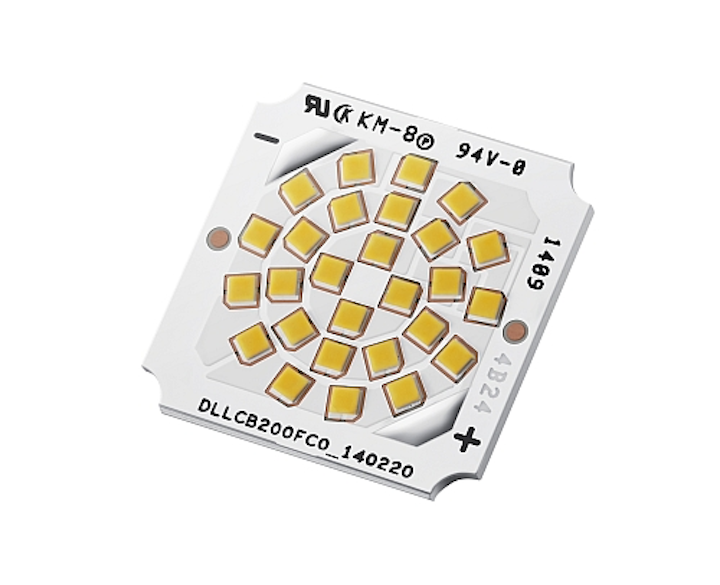 Delivering on a new LED architecture first disclosed at the February Strategies in Light (SIL) conference in Santa Clara, California, Samsung has announced the LM131A mid-power LED family and the LH141A high-power LED family based on a flip-chip device architecture. The company also announced a new flip chip on module (FCOM) product that utilizes the new LEDs and that is designed for use in downlight applications. Meanwhile, the company also recently announced a large solid-state lighting (SSL) module family designed for planar lighting applications.
Bangwon Oh, senior vice president of the LED strategic marketing team at Samsung Electronics, had revealed Samsung's plans during a keynote speech at SIL. The flip-chip concept isn't new in general, but mid-power LEDs are not typically constructed with such architectures. Still, Philips Lumileds has broadly used a similar architecture in higher-power LEDs.

"By utilizing an advanced flip-chip technology, Samsung has made significant improvements to its LED packages and modules," said Oh. "Our new Samsung flip-chip and FCOM solutions also strengthen our overall lineup of LED component solutions, further enhancing our market competitiveness." The company said that the products will be available by the end of the second quarter.
Detailed performance specifications are not yet available for the LEDs although they measure 1.22 and 1.4 mm per side for the mid- and high-power devices, respectively. Those are far smaller dimensions than typical mid-power LEDs and there is essentially no package encapsulating the LED.
Samsung said the LEDs will be able to handle higher drive currents than competing LEDs. Moreover, the company said a new approach in which phosphor sheets are applied to the LED will deliver color consistency within a 3-step MacAdam ellipse.
The modules, meanwhile, are meant to compete in the chip-on-board (COB) LED space although applying the flip-chip LEDs with phosphor on each individual LED to a circuit board is quite a different approach. Samsung says that the FCOM concept will give it more flexibility in delivering configurations in terms of lumen package and driver current required for specific applications.
Planar modules

In the larger modules sector, Samsung recently announced the lens-attached modules (LAMs) that are essentially larger-format circuit boards with both LEDs and optics installed on the board. The company offers the LAMs in both linear and rectangular form factors. Samsung said that design with the optics allows better light distribution and therefore fewer fixtures to light an area.
The modules enable slim fixture designs that can be recessed or surface mounted. Samsung said that it leveraged experience from creating LED backlight units for thin TVs in developing the LAM family. Presumably the optic applied to the LEDs allows for very close spacing between the light source and diffuser, as little as 35 mm, while still delivering uniform illumination with no dark spots.