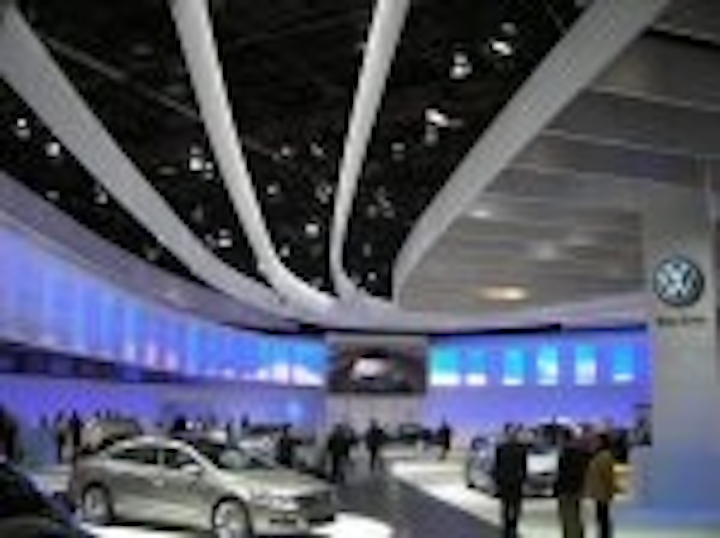 Volkswagen made sure its stand would be noticed at this year's North American International Auto Show (NAIAS), with help from G-LEC's Phantom 30 LED technology.
In common with other motor shows around the world, NAIAS, held in Detroit in January, is a showcase not only for production and concept vehicles but also for eye-catching and spectacular displays, many using LED technology.
Among the exhibits was Volkswagen's eye-catching stand with 44 metre wide, custom-made Phantom 30 frames set up in an arc on each side of a high-resolution video wall.
Designer and technical coordinator Ulrich Schmidt-Kalteich of Lightidee, Germany, specified the Phantom because of its transparency, brightness and static possibilities.
"The client's brief stated high brightness and transparency from both sides – front and back – with a clean, architecturally unobtrusive outfit," he said. "In order to soften the image for people close-up, we placed a voile fabric in front of the frames."
G-LEC custom-engineered its standard 1 x 1 meter frames to a new form factor of 0.5m wide by 2m tall, to enhance the visual clarity at eye height.
The 30mm pixel resolution Phantom, with daylight LEDs, worked "brilliantly" in very high ambient lighting levels to deliver a very punchy show. Ulrich concludes: "We were pleasantly surprised with the results – the brightness and reliability of the Phantom 30 is unrivalled."