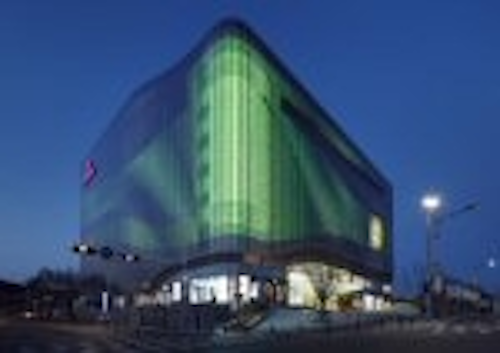 Luminaire manufacturer Zumtobel Lighting GmbH (Dornbirn, Austria), and lighting design firm ag Licht (Bonn, Germany) worked with the architectural firm UNStudio (Amsterdam, the Netherlands) to design an LED-based façade for the Galleria Citycenter mall in Cheonan, Korea, just 80km outside of Seoul.
The façade features colored-lighting sequences based on computer-based animations developed by UNStudio. The same firm was also the architect behind a project to install
LED lighting in the façade of a department store in Seoul
. That project, which was completed in 2004, used frosted glass discs that were backlit by 5000 LEDs.
Wilfried Kramb, ag Licht's project manager on the Cheonan project said, "Our objective in setting the façade center stage was to illuminate this huge surface area in a manner that ensures that the overall impression of the building at night is in keeping with the impression it makes during the day.
Kramb added: "We wanted our lighting design to reflect the multi-layered nature of the façade and the interplay with overlapping sections."
The building was designed to utilize an indirect lighting method to let natural light penetrate the mall's interior during the day, reducing the amount of artificial light required (a video of the interior of the Galleria Centercity, Cheonan can be viewed on YouTube).
An indirect lighting effect
The building's materials and construction helped achieve specific lighting effects. The architects used vertical aluminum panels together with custom-built triangular glass sections to fabricate both inner and outer façade layers.
The RGB spotlights, which are built into the glass sections, project light onto the inner (aluminum) façade, where it is reflected back onto the building's outer façade.
When reflected, the light is converted into large-area, glare-free picture elements (pixels).
Three types of pixels were used to achieve optimal visual results: high-resolution 400x400-mm pixels at the building corners, low-resolution 800x800-mm pixels on straight surfaces and medium-resolution pixels in between.
In the installation, more than 22,000 LED spotlight luminaires are individually controlled by a DMX controller. Zumtobel developed a custom solution for the façade, using 3.6W RGB LED spotlight luminaires with IP65 rating (12,399 units) together with 1.2W white LED spotlight luminaires (10,000 units).
Next-generation design
The Galleria Citycenter façade design is a step toward integrated media-façade lighting. "In Asia, people don't just visit shopping malls in order to consume. In the Far East, shopping malls like Galleria Centercity are also a place for social interaction," said Ben van Berkel, the architect in charge of the shopping mall and UNStudio's director.
"Shaping the shopping mall as a living space required, externally as well as internally, a unique, creative design force capable of attracting visitors, inviting them to linger and motivating them to return," added van Berkel.