Cree demonstrates 60W-equivalent LED retrofit lamp
LED-based A-lamp achieves Energy Star requirements for 60W replacement lamps, but Cree hasn't formalized plans to bring a product to market.
Jan 28th, 2011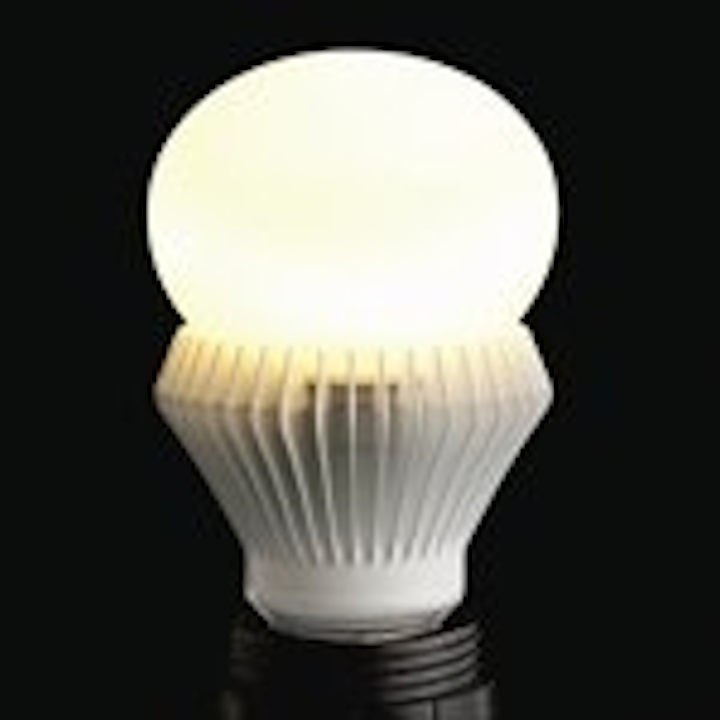 Cree has developed an LED-based retrofit A-lamp that it claims is the first design that can meet Energy Star requirements for 60W-equivalent products. The company is having the performance of the design validated by a third-party testing lab, but has not decided how or when the technology will come to market.
The demonstration lamp outputs more than 800 lm with a color temperature of 2700K, CRI of 90 or better, and power consumption less than 10W. Cree expects third-party testing to validate lumen maintenance to L70 of 25,000 hours. Energy Star specifies 25,000 hours, and Vice President of Corporate Marketing Greg Merritt said, "We want to at least achieve that."
Cree has not provided details on the light-engine design, but Merritt stated that the performance is enabled by Cree's XLamp LEDs, TrueWhite Technology and patented remote-phosphor technology. TrueWhite Technology mixes light from yellow and red LEDS to offer warm white light.
Dual-dome remote phosphor
Cree hasn't previously announced remote phosphor technology. Merritt describes the retrofit bulb as a dual-dome design with the remote phosphor deployed in the inner dome.
The design uses a passive cooling scheme enabled in part by the increasing efficiency of LEDs according to Merritt. In the nearby photo you can see the cooling fins. Merritt said, "It looks more like a traditional bulb" when asked about more radical designs such as Philips' products that leveraged air channels between portions of the lens. Merritt asserts that consumers have voiced a strong preference for replacement lamps that look like traditional bulbs.
Merritt made the point repeatedly that the development of the retrofit lamp was not simply an engineering exercise. He also acknowledged that Cree hasn't decided how to proceed with the product. Merritt said, "We haven't decided if, how, or when we will bring it to market."
Merritt did hint at a strategy saying, "We have a strong track record of making our innovations available to our customers." When asked if that meant customers of Cree LED components, Merritt added, "All of our customers, customers who want to make similar products." That comment implies that the demonstration is essentially a reference design.
Cree CEO Chuck Swoboda made similar comments about Cree's lighting business in the keynote speech he delivered at a recent LED developers' conference presented by Cree and Arrow (see links at the right for full details). Swoboda had indicated that Cree's system business was largely dedicated to system development that can help customers solve problems thereby ramping component sales.
At the launch of the A-Lamp demonstration, Swoboda said, "We are committed to leading the market and showing the industry what's possible with recent innovations in our LED products and technology. We are excited to show the world what it should expect in an LED light bulb and enable our customers' products with these innovations."
Low cost and high performance
Both Swoboda and Merritt emphasized that the A-Lamp design was designed to be cost-effective and to yield quality light. "In the race to commercialize low-cost, energy-efficient LED bulbs, the industry has forgotten that LED lighting is supposed to look as good as the technology it is replacing," said Swoboda. "This is the first no compromise replacement for a 60 watt incandescent bulb."
When asked about the goals of the project, Merritt said, "We wanted to demonstrate that you could do this with a product that was designed for mass production at an attractive market price." When reminded that the product price was still an unknown, Merritt added, "Obviously you have to take me at my word for this because I'm not telling you how much it costs."
Given the specifications of the retrofit lamp, we wondered if the design might be entered in the US . The DOE has temporarily suspended the PAR 38 portion of the competition while the Philips lamp remains the only entry in the A-Lamp competition. According to Merritt, however, the Cree design was optimized for cost. It doesn't produce the 900 lm required for the L-Prize.
The Cree lamp is designed to meet all of the elements of Energy Star for retrofit lamps. That includes the requirement for uniform light distribution below the equator of the bulb according to Merritt. Merritt asserted that no 60W-equivalent SSL product has complied with Energy Star requirements to date.
Cree chose the anniversary of Edison's patent issue date for the A-Lamp as the date to launch the retrofit demonstration. It was 131 years ago that the patent office recognized what became known as the Edison socket.