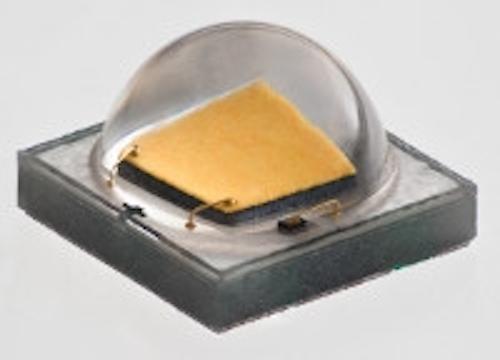 Cree has now announced that its XLamp XP-G2 LEDs, first introduced in July 2012, now offer a 7% boost in flux output. Meanwhile, the Cree Lighting Soft White retrofit lamp announced last March has gained Energy Star certification. Moreover, Cree won an Innovation Award from Home Depot for its supply of energy-efficiency solid-state lighting (SSL) products.
Brighter LEDs
On the LED front, Cree has completed the requisite 6000 hours of LM-80 testing for the XP-G2 LEDs and documented 7% better performance than specified at launch. Warm-white 3000K LEDs deliver 142 lm/W at a hot 85°C operating temperature and 350 mA of drive current. That number goes up to 155 lm/W at low temperature.
"We looked at many different LEDs but selected the XP-G2 LED because of its high performance and proven reliability," said Amy Casper, CEO of Ephesus Lighting. "We are excited that the XP-G2 LED is now even brighter. Cree's leading-edge technology is one of the key elements in our products, allowing us to offer market-leading performance to our customers in both the industrial and sport lighting industries."
The LM-80 data also foretells excellent lifetime for the XP-G2 LEDs. TM-21 projections indicate an L85 lifetime in excess of 36,000 hours at the maximum drive current of 1.5A.
Energy Star and award
The lighting side of Cree, meanwhile, has announced Energy Star certification for its LED lamps that have been widely sold since March. Specifically, the Energy Star rating applies to the warm white lamps that Cree calls Soft White.
The significance of the approval comes in the form of utility rebates for which the lamps will now qualify. And at under $15 for a 60W-equivalent lamp, the products were already among the lowest priced products on the market, although that changed slightly with the new Walmart house-branded lamps just announced. Still, the Cree lamps could prove cheaper for consumers with rebates available.
Home Depot was the primary Cree partner for the retrofit lamp product line at launch, and the retailer has recognized Cree with a 2013 Innovation Award because of the LED Lamp. "The Home Depot's goal is to offer customers the most innovative, ground-breaking products that will help them improve their homes while saving them time and money," said Craig Menear, executive vice president of merchandising for The Home Depot. "Our merchants consistently work with our manufacturing partners to develop pioneering products that differentiate The Home Depot and attract customers."