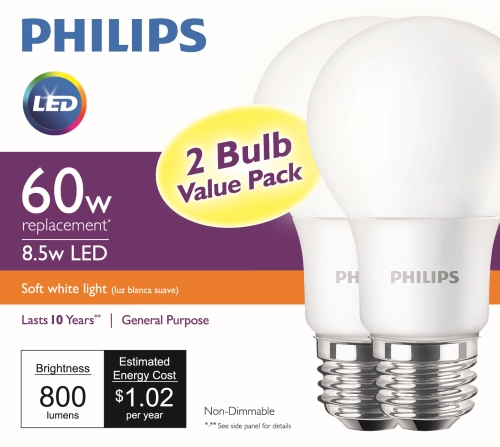 The cost-optimized LED-lamp design will allow the Initial supply from Home Depot to be distributed in a twin pack with customers receiving two 800-lm bulbs for $4.97.
Philips Lighting has announced a new 60W-equivalent LED retrofit lamp priced under $5.00 in conjunction with Earth Day. The solid-state lighting (SSL) product provides an excellent example of the broad array of product-design options afforded by LED sources. Philips was able to deliver the low price by targeting only a 10,000-hr life and optical performance designed for use in places such as hallways, laundry rooms, and closets where lighting is used less frequently relative to living areas in a home.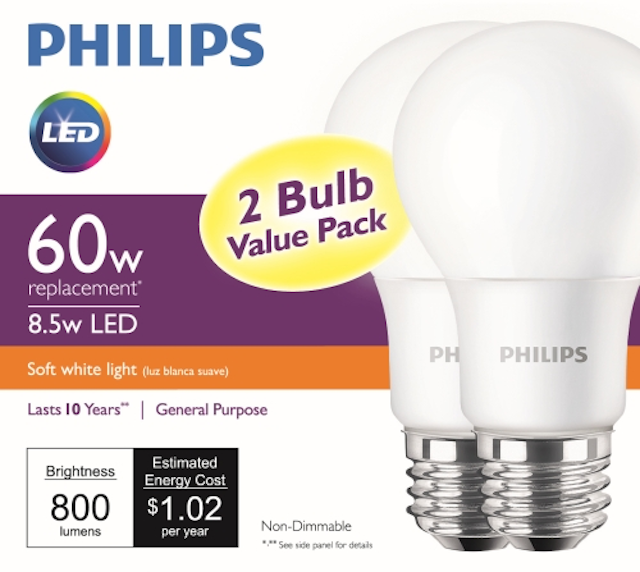 Philips Lighting delivers sub-five dollar 60W-equivalent LED retrofit lamp
Philips has a broad range of LED-based A-lamp products. The uniquely-architected SlimStyle product announced at the end of 2013 has been the low-price leader with online pricing under $9. That LED retrofit lamp product has achieved Energy Star compliance, thereby enabling some buyers to receive rebates from retail purchases that can bring the price under $5.
"With this bulb, consumers have a quality, day-to-day option for any area in their home that is as good for their wallet as it is for the environment," said Amy Huntington, president of Philips Lighting Americas. "Quality LEDs should not be a luxury or something that only those that live in areas with robust utility rebate programs can afford."
The new LED retrofit lamp, that seems to lack a model number but is already on the Home Depot website, will not become Energy Star certified and is intended to be affordable with no rebate. The initial online supply will truly prove to be a bargain with Home Depot now offering two-packs for $4.97 online — the expected retail price of a single lamp in the long term. Philips said the 2-for-1 pricing could extend for 90 days or until the twin-pack supply is exhausted, which should include products that hit Home Depot store shelves in May.
Philips took several steps to lower the cost of making the new lamp. The lamp is not dimmable, but such a feature is not typically required in the intended application. It uses lower-priced mid-power LEDs. That design choice is surely one of the elements behind a relatively lower expected lifetime of ten years or 10,000 hours. But the mid-power-based design does deliver the 800 lm expected of a 60W-equivalent lamp — using only 8.5W and achieving outstanding efficacy of 94 lm/W.
Energy Star requires a projected life of 25,000 hours so that is one factor that will prevent listing of the new retrofit lamp in the program. A Philips spokesperson also said the design delivers near-omnidirectional performance, but falls just short of the Energy Star Requirement. For more information on Energy Star requirements, follow our chain of articles on the Lamps specification.

The initial offering of the new Philips LED retrofit lamp will consist of 2700K-CCT warm-white products. Philips said it will also offer cooler 5000K-CCT color temperatures. Moreover, the company will offer 100W-equivalent versions of the cost-optimized design. Philips also said the 100W-equivalent bulb due soon will be in a true A19 form factor, whereas many 100W-equivalent LED bulbs are in the slightly taller A21 form factor.
Philips said the retrofit lamp can be used in all open fixtures and in table lamps. The company doesn't mention enclosed fixtures, but the higher heat in such an environment would probably impact the life of the lamps or color and lumen maintenance. But as the consumer becomes more educated about lamps and feature set, it will become second nature to buy a lamp based on the intended application.
"We continue to look for ways to bring the latest innovation at great prices, and the new Philips LED A19 is an example of that," said Joey Corona, light bulb merchant at Home Depot. "This price brings all the benefits of LED in a great quality bulb to a level everyone can afford and benefit from."