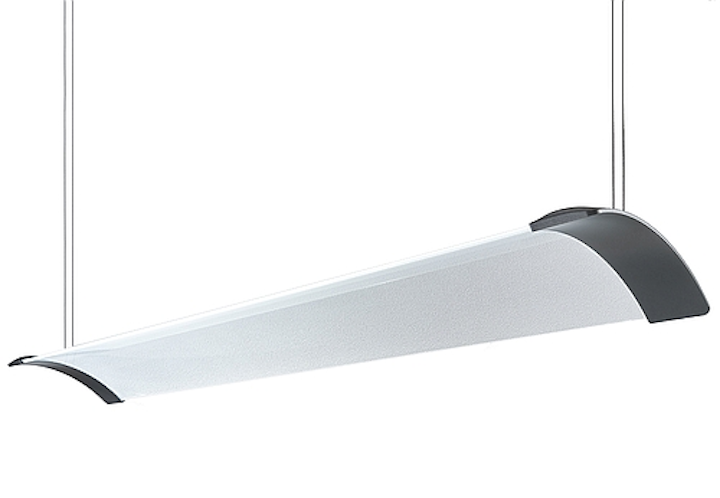 Taking the edge-lit planar SSL concept to a new level, Eaton has developed sleek luminaires with compelling curves and free-form geometries for architectural lighting applications, and a new pendant suspension scheme that hides the driver remotely.
Eaton has announced new Neo-Ray family LED luminaires that take the next step in establishing new form factors in lighting based on the unique characteristics of LED point sources. You can't really call the new products planar because the emission surfaces are in fact curved, although they borrow the edge-lit, light-guide-based, solid-state lighting (SSL) technology that Eaton calls WaveStream and has used in many planar products. To complement the sleek new products, Eaton also has announced a new suspension scheme called LuxWire that uses almost-invisible aircraft cable for pendant-style mounting and to deliver low-voltage DC power to the luminaires.
Interested in articles & announcements on architectural lighting?
Light-guide-based products have proven very popular in the past few years and luminaires based on the technology have been characterized by sleek designs and a uniform, large-area emission surface. Indeed, the LED-edge-lit technology has been a contributing factor in keeping OLED panels, and the inherent surface emission of such panels, on the sidelines in lighting applications. Still, the light-guide-based products used in general lighting applications have used planar surfaces even if some luminaires used multiple panels to create interesting geometries.
3D light guides
Ironically, Cooper Lighting (prior to being rebranded with the parent Eaton name) had shown some 3D shapes based on WaveStream technology in a private demonstration room at LightFair International back in 2012. The company introduced the planar technology to several of its product families at LFI in 2013. Cooper and GE Lighting had separately signed patent licensing agreements back in 2012 with Rambus that provided access to light-guide-based lighting.
Cooper (and now Eaton) has developed WaveStream technology based on what it calls AccuAim optics that are manufactured in the light guides. Eaton now has a plethora of indoor and outdoor lighting products on the market based on WaveStream. Indeed, the stylish Invue Arbor collection of post-top luminaires for outdoor applications was just awarded an LEDs Magazine Sapphire Award two weeks ago.
The new Neo-Ray Covera luminaires are said by Eaton to have next-generation WaveStream technology. Looking at the nearby photo would likely be more informative than a text-based description. The design appears to be an arc of what's overall a cylindrical shape in terms of the WaveStream light guide. Certainly this first cut at a 3D luminaire looks compelling, and we'd guess that more geometries are on the way, especially given this pre-LFI announcement.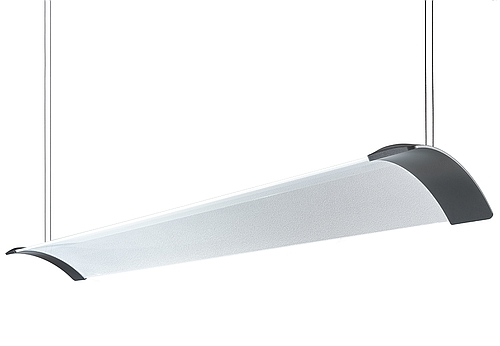 Eaton delivers curved surface-emissive LED luminaires, new pendant scheme
Eaton's Covera LED luminaires feature the company's WaveStream light-guide technology in a new curved form factor.
Initially, Eaton will offer Covera in 2- and 4-ft lengths, and across CCT options at 2700K, 3000K, 3500K, and 4000K. The 2700K version has a CRI rating of 90 while the cooler models are 85 CRI. The smaller products deliver 1590 lm at 3500K and the larger 3248 lm at 3500K.
Meanwhile, Eaton also announced new Neo-Ray Converge luminaires that use a pair of planar WaveStream light guides located on either side of the center axis of the linear products. The Converge products come in 4-ft and 8-ft lengths and can be installed individually or cascaded into longer runs of continuous lighting. The luminaires deliver both uplight indirectly reflected from the ceiling and direct light and Eaton said that the design can increase row spacing in large rooms.
Pendant mounting and controls
Both the Covera and Converge products are offered with the new pendant mounting and power scheme called LuxWire. Many pendant luminaires offered across the SSL industry have an elegant look that's compromised by AC power lines that must be run from the ceiling. The LuxWire system uses steel cables that have a minimalist sleek look, and leave the drivers mounted in the ceiling. The steel cables safely deliver DC power to the fixtures.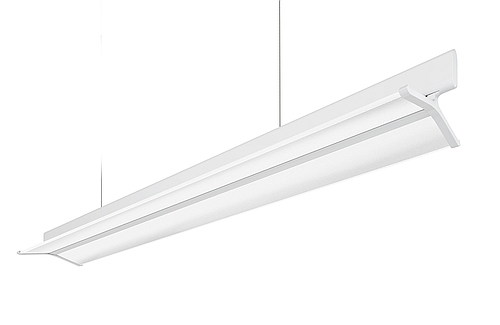 Both Covera and Converge (shown) LED luminaires by Eaton use the LuxWire mounting scheme that also delivers DC power via steel cables for a minimalist look.
Eaton is also offering a large array of network and control options for the products. Lighting designers and specifiers can use legacy control systems such as 0–10V and DALI (digital addressable lighting interface). Eaton is also offering the luminaires in models compatible with its DLVP (digital low voltage power) system that debuted at LFI last year. We covered that DC-grid system in detail in a October feature article. The system includes inherent network support and simplifies power wiring in buildings. Support for Enlighted's networked lighting systems is one further option that Eaton calls the LumaWatt Pro Connected Lighting System.
"The new curved WaveStream technology delivers the same precise optical performance as our planer WaveStream solutions, and combined with the LuxWire technology, offers specifiers a unique, sophisticated, and elegant suspended ambient illumination solution," said Tim Bingaman, general manager, Neo-Ray. "By adding our enabled or connected lighting solutions, customers can save on installation and operating costs, reduce maintenance costs, and increase overall energy savings."